Ordonez…tempering expectations
While I took a look at Ordonez back in December, with the Tigers recent interest in him, I decided to take a second look. At the time, I thought he'd be a decent gamble if the Tigers could work out a fair deal and protect themselves in the event the knee becomes a chronic problem. However, after a closer look I think the knee might not be the biggest cause for concern.
There is no denying that Ordonez has been a great hitter thus far in his career, and until this past season he has been healthy. He's a perennial .300 hitter, 30 homer, 100 RBI guy. This career OPS+ is certainly impressive. However, it is important to remember the park that Ordonez has done most of his damage. US Cellular is the easiest park in the majors to hit home runs in. Using park factors from Bill James 2005 Handbook, from 2002-2004 it was 31% easier to hit home runs in US Cellular than a typical park. During that same span Ordonez has hit 60% of his homers in his home park, and his OPS is 83 points higher at home.
Now transfer that production over to Comerica park. A place where it is 14% harder to hit homers than your typical park. It just wouldn't be realistic to expect Ordonez to meet his career production.
The other factor is that Ordonez is past his peak seasons. I'm not saying that he is past the point of producing, but a dropoff due to age wouldn't be out of the ordinary.
For fun, I went to Baseball Reference and took advantage of their similarity scores. I looked at the 10 most similar players to Ordonez through age 29. (I used 29 instead of 30 because last season wasn't really representative of his production). I then looked at how those same players did from age 31 on. I've consolidated the information into the table below: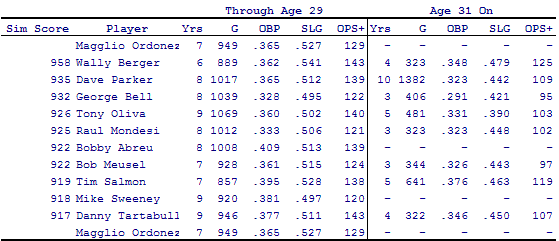 Of the 6 comp players who have retired, they average out to 4 years and an OPS+ of 104. Dave Parker went on to play 10 more years, but aside from a sensational season at age 34 (148 OPS+) he was basically an above average player. Tim Salmon has continued to be productive, albeit inconsistently. Raul Mondesi is well, Raul Mondesi. This doesn't mean that Ordonez will follow the same path, but it does paint a discouraging picture.
In all fairness, if you take a look at the comps for the most similar players through age 30, things look better for Ordonez. A handful of the players change, and among those that have retired they average 6 years and an OPS+ of 112. Larry Walker also gets added to the list, and he would definitely boost the average production of the group.
I'm not against signing Ordonez. However, given the fact that Boras asking price (thanks to MotownSports for the link)seems to be based on a level of production built in a very hitter friendly park it seems that he will be too expensive. It sounds like he is looking in the neighborhood of $50 million. Given Dombrowski's reluctance to hurt the team with ridiculous contracts I'd be surprised if Dombrowski would sign him at that price. This is especially true because they won't be able to insure him given his knee complications.