Contractually Speaking
A recent article by John Lowe indicated that the Tigers payroll will be in the $60-65 million range next year. It also quoted Dave Dombrowski about how a World Series champion has never had a single player make up more than a sixth of the team's payroll. This was all leading up to make us believe the Tigers wouldn't be signing a $10 million player. The problem with the article is that if the Tigers' payroll max is $60-$65 that would mean that the Tigers essentially have no money to sign any free agents (beyond Percival), despite the fact that they've had simuultaneous offers on the table that would total at least $25 million (Pavano/Finley/Glaus).
With all this payroll confusion I thought it would be worthwhile to take another look at how the Tigers' payroll looks for this year. I've sketched it out to the best of my ability in the table below using data from Dugout Dollars.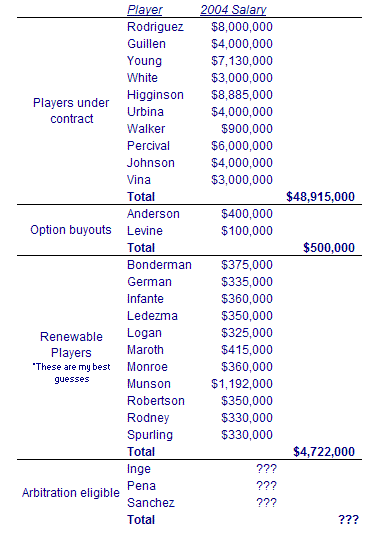 The hard numbers are the $49 million for players currently under contract, and the half a million in option buyouts. For the guys with less than 3 years of service, they can be renewed at a price not less than 80% of what they made last year. I took my best guess at the marginal raises these players would receive. In Munson's case, I took 80% of his salary from last year. I also had to guess on what the roster composition would actually be. Although, that guessing should have minimal impact because as it stands now, even if I'm wrong on a fringe guy, the replacement salary would be comparable. The one exception would be Munson who could very well be non-tendered.
The area I didn't venture a guess is the arbitration eligible players. I'm sure that Inge and Pena will be tendered contracts. Pena is represented by Scott Boras, and they haven't been able to come to an agreement the last two years, with the Tigers just renewing his contract. This year it wouldn't surprise me if the Tigers again failed to come to an agreement and went to arbitration for a one year deal.
It would stun me if Alex Sanchez was tendered a contract. He is a fast guy with a bad hamstring. He's a poor fielder with no arm. He's a .300 hitter, but he finished last year with more caught stealings than walks.
With the $49 million in contracts and buyouts, another $4-$5 million in non-arbitration players, and probably $3 million or so for arbitration eligble players leaves the Tigers with a payroll of approximately of $57 million. According to the $60-65 that leaves the Tigers room to sign maybe one mid level guy. Even if they trade Urbina, they'll probably be getting comparable salary in return so there won't be any help there (plus given the market, Urbina at $4 million doesn't seem so bad). That's why I don't believe the cap figure that Lowe published, especially given the offers that the Tigers have made.
One other thing of note is that the Tigers only have 3 players under contract for 2006-Percival, Guillen, and Rodriguez. This should give them quite a bit of flexibility and it also leads me to believe they won't be afraid to offer a big, long term contract. However, a big chunk of money will be going to Bonderman who will be arbitration eligible in 2006.
UPDATE: I messed up when I first posted this and included Maroth as arbitration eligible, which I've since fixed.

Other notes: The Tigers missed on Renteria. I was never a big proponent of that move anyways. I appreciate the thinking by Dombrowski as an alternative to finding a 3rd baseman, I just didn't like the contract. Now hopefully the Tigers can miss on Derek Lowe also.
Also, December 20th is the deadline for clubs to tender contracts to non-free agents, so we'll find out real soon if Munson and Sanchez will be with the Tigers next year. There could also be some cheaper alternatives for the Tigers hitting the market at that time.