A journey through some links that will update us on the Tigers walking wounded, that will put limits on Justin Verlander's workload, and other odds and ends including bullpen usage and Alex Avila.
Injuries
Word out of Lakeland is that Zach Miner is preparing to enter pseudo game action as part of his rehab assignment. Even with no set backs that would likely but him a couple weeks away from being ready to join the Tigers. And while the bullpen has been overworked and a fresh arm would be helpful, the bullpen has also been pretty effective.
Adam Everett is expected to be back any day now after taking batting practice yesterday. That could prove timely as Jim Leyland is still concerned about Scott Sizemore's ankle and if he wants to spell him at second, he would have Ramon Santiago as an option with a healthy Everett manning short.
For those that were hoping to get a look at Brent Dlugach, he has cooled off at Toledo as his BABIP hasn't been able to sustain his strikeout rate (31 K's in 86 PA's).
On the minor league injury front the Tigers are hopeful that Jacob Turner's soreness is an adjustment to a pro pitching schedule and nothing ominous.
Verlander's workload
With Justin Verlander throwing over 120 pitches in each of his last two starts and not seeing the sixth inning in either, it turned out to be a clubhouse topic yesterday. Leyland says he is going to put a limit on Verlander in his next start regardless of the inning. Verlander acknowledges that he needs to be more efficient but says pitch counts are overrated.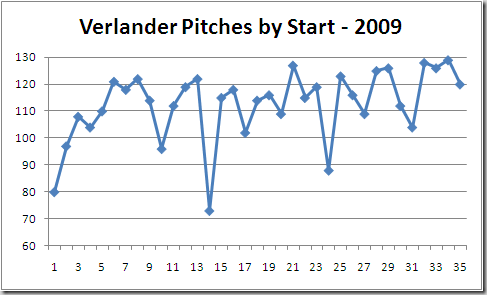 We'll see what happens with this limit. I'm sure that Leyland doesn't want Verlander getting hurt on his watch, but he also had him throw over 120 pitches in 6 of his last 8 outings last season. Verlander has always proven up to the task, I just doubt that Leyland is going to reign him in too much.
The rest