It's like forgetting the words to your favorite song. You can't believe it. You were always singing along. (So imagine what this could have been like without 6 games against inferior NL West opponents.)
So the Detroit Tigers are now:
SP Verlander
SP Scherzer
SP Sanchez
SP Porcello
SP Smyly
RP Nathan
RP Alburquerque
RP Chamberlain
RP Coke
RP Hardy
RP Smith
RP Krol
C Avila
C Holaday
1B-DH-3B Cabrera
2B Kinsler
SS-2B Romine
SS Suarez
3B Castellanos
IF-OF Kelly
RF Hunter
CF Jackson
LF-CF Davis
LF-RF J. Martinez
DH-1B V. Martinez
---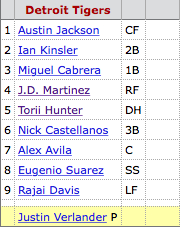 Game 91: Verlander v. Chen. ROYALS 5, Tigers 2. Up 2, down 3.
NICE PLAYS: SS Escobar-2B Infante-1B Hosmer, 3B Moustakas, CABRERA, CF Dyson
MISPLAYS: Moustakas, Escobar, C Hayes, SUAREZ
BASERUNNING NEWS: The Tigers stole some bases without stealing them, as DAVIS went first to third en route to scoring and JACKSON went first to home on the J. MARTINEZ popup into LF no man's land (questionable effort by Escobar there, sun ball or not.) AVILA beat the shift with an IF single to SS.
THE BIG HIT: Bases loaded, 2 out, 2-2 in the 7th, INFANTE 2-run single off ALBURQUERQUE.
THE BIG OUT: Bases loaded, 1 out, 2-2 in the 7th, KROL retires Aoki (popout 2B).
GOOD HITTING: J. MARTINEZ
BAD HITTING: Aoki, KINSLER
GOOD PITCHING: Ventura
BAD PITCHING: ALBURQUERQUE, COKE
OBVIOUSLY: The team that sends 11 men to the plate in the 7th tends to win.
AND, BUT, ALSO: The Tigers 2 runs in the 3rd made it look like luck was on their side (and if the CABRERA sac fly had been a bit deeper, as in gone, it's a different game). Move of the game may have been bringing in Ventura to put Detroit on ice (they called it a day and finished 1 for 12), and luck turned sharply the other way in the 7th. A slip and a failed lunge by VERLANDER, and the table was set for the big inning the Tigers bullpen could do nothing to prevent.

ALL-STAR BREAK
"I hate baseball."

Game 92: Bauer v. Sanchez. Indians 9, TIGERS 3. Up 3, down 6.
NICE PLAYS: SANCHEZ, SUAREZ-CABRERA, RF Murphy-2B Kipnis-C Gomes, JACKSON, HUNTER, SS Cabrera-Kipnis-1B Santana, 3B Chisenhall
MISPLAYS: Gomes-Chisenhall, Gomes, SUAREZ, LF J. MARTINEZ
BASERUNNING NEWS: J. MARTINEZ was out at home trying to score from 1B, but it took a mighty fine play to get him. Stealing 3B to draw the possible error is great strategy when it works, and it did for HUNTER (who scored on the play). The CABRERA steal of 2B wasn't all Gomes's bobble; he had a great jump, though not as great as the one Brantley got off SANCHEZ (or as much of an impact).
THE BIG HIT: Men on 2nd and 3rd, 2 out, 3-3 in the 7th, KIPNIS 3-run HR off ALBURQUERQUE.
THE BIG OUT: Men on 2nd and 3rd, 1 out, 3-3 in the 7th, ALBURQUERQUE strikes out Dickerson.
GOOD HITTING: Kipnis, Swisher
BAD HITTING: JACKSON
GOOD PITCHING: Bauer
BAD PITCHING: ALBURQUERQUE, SMITH
OBVIOUSLY: Another late collapse. Remarkably, the opponent sends 11 men to the plate in the 7th for the second consecutive game.
AND, BUT, ALSO: No question that the Tigers played well and won the first 6 innings, or that the offense kept knocking at the door the rest of the way. Did the unraveling start with the Brantley IF single that should have (?) been an out? Not a reason for the bullpen to be gasoline. V. MARTINEZ was back in the lineup after an extended absence, 2-4 with a couple of K's.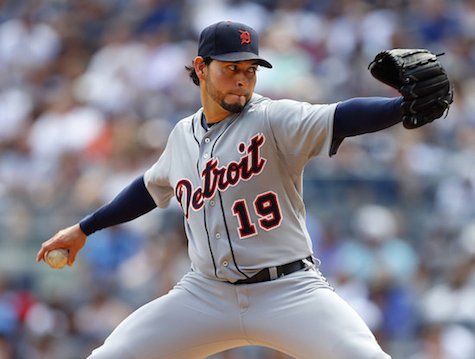 Game 93: Kluber v. VerHagen. Indians 6, TIGERS 2. (Game One of makeup doubleheader.) Never ahead, down 5.
NICE PLAYS:  HOLADAY-SUAREZ-CASTELLANOS, SS Cabrera, 2B Kipnis-1B Santana (2), HOLADAY-SUAREZ (2), KINSLER-SUAREZ-CABRERA, 3B Chisenhall, KINSLER, Santana
MISPLAYS: CABRERA, Kipnis, KINSLER, HOLADAY (3)
BASERUNNING NEWS: A good news/bad news day for HOLADAY defensively. The good news was that he was death to would-be thieves, and the CS on Brantley and Murphy were just sensational combos. The hustle on the CASTELLANOS 9th inning double did not go unnoticed. Good read and no hesitation scores CABRERA from 3rd on a groundout (though it took a good play from 1B Santana just to stop the would-be single off the bat of J. MARTINEZ).
THE BIG HIT: Runner on 1st, none out, 0-0 in the 5th, SWISHER RBI double off VerHAGEN.
THE BIG OUTS: Runners on 1st and 2nd, none out, Tigers down 3-0 in the 5th, KLUBER retires DAVIS on a 1-4-3 DP, SUAREZ advancing to 3B.
GOOD HITTING: Murphy, Gomes, Kipnis
BAD HITTING: Brantley, Raburn, DAVIS
GOOD PITCHING: Kluber
BAD PITCHING: KNEBEL
OBVIOUSLY: Detroit couldn't get to Kluber (10 K and 13 groundball outs) and was beaten soundly for it.
AND, BUT, ALSO: Not as flat as the scoring might indicate, and closer; both teams came to play with good defense and action on the bases, and there were quite a few bang-bang plays. Kluber was just dealing, and the Tigers' runs were truly scratched in. The mop-up style finish was disheartening. 4-1 is a blowout, KNEBEL, HOLADAY, AUSMUS?

Game 94: McAllister v. Scherzer. Indians 5, TIGERS 2. (Game Two of makeup doubleheader.) Up 1, down 3.
NICE PLAYS: HUNTER-KINSLER-SUAREZ, 3B Chisenhall, CABRERA-SUAREZ, CABRERA
MISPLAYS: SCHERZER-CABRERA, P McAllister, AVILA (2), JACKSON (2), 2B Kipnis, P Axford
BASERUNNING NEWS: Not much. They were all tired. Strange play where McAllister tried stopping his pitch in the middle of his delivery (with a man on 1st) and ended up throwing it down to the infield grass. Looked like a balk, scored a wild pitch, apparently.
THE BIG HIT: Bases loaded, 2 out, 2-2 in the 9th, Santana 3-run double off NATHAN.
THE BIG OUTS: Man on 3rd, 1 out, Tigers down 2-1 in the 6th, Axford strikes out J. MARTINEZ and HUNTER.
GOOD HITTING: JACKSON, Dickerson, Santana
BAD HITTING: KINSLER
GOOD PITCHING: McAllister, Axford, KROL
BAD PITCHING: NATHAN
OBVIOUSLY: A game that could have gone either way resoundingly blown by our closer.
AND, BUT, ALSO: Before we heap all the blame on Nathan: JACKSON's misplay was a key in his demise. The teams combined for 1-18 RISP. The "1" belonged to Cleveland. Both starters scuffled (and lefties were clobbering SCHERZER), and Detroit especially left a lot of runs out there (1 walk in 5 tries with a runner at 3B!). Defense was poor. Relief pitching was actually the least of it, aside from losing the game in the top of the 9th and all.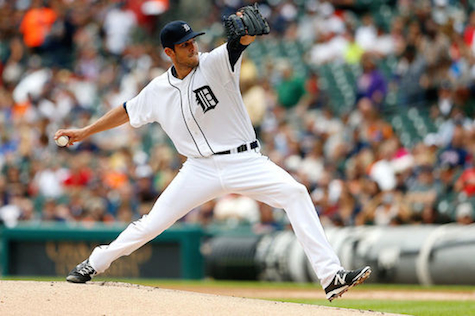 Game 95: Tomlin v. Smyly. TIGERS 5, Indians 1. Never behind, up 4.
NICE PLAYS: RF Murphy-1B Santana, HUNTER, 1B V. MARTINEZ-SMYLY, Santana-P Tomlin, AVILA-KINSLER, ROMINE-KINSLER, Santana-P Adams,
MISPLAYS: 3B Aviles, LF Raburn
BASERUNNING NEWS: The Tigers challenged every Indians OF arm in the 1st inning and won each time, with JACKSON scoring on a shallow single and KINSLER tagging up twice and coming in to score. JACKSON got a little greedy the next time and got doubled off 1B for gambling that KINSLER's RF fly would drop. ROMINE reached on a swinging bunt to the left side. He was out stealing 3B except that Aviles couldn't glove the good throw from Gomes, and so it went as a double-steal for ROMINE-JACKSON. HUNTER motors home from 1B on the CASTELLANOS double.
THE BIG HIT: Runner on 1st, 2 out, Tigers up 2-0 in the 4th, HUNTER 2-run HR off Tomlin.
THE BIG OUTS: Runners on 1st and 2nd, none out, Tigers up 4-0 in the 6th, SMYLY retires Cabrera-Brantley-Santana in order.
GOOD HITTING: CASTELLANOS, HUNTER
BAD HITTING: AVILA
GOOD PITCHING: SMYLY, Crockett, Lee
BAD PITCHING: Tomlin
OBVIOUSLY: A very good start stands up. 4 runs of support is starting to look "big."
AND, BUT, ALSO: Over the course of 4 at bats in the 5th and 6th (all strikeouts), Detroit left 10 baserunners standing where they were. This is the game where the guy who catches HUNTER's home run is accosted by Fat Drunk Guy. Maybe they were buddies. Let's hope so.

Game 96: Verlander v. Nuno. Tigers 4, DIAMONDBACKS 3. Never behind, up 3.
NICE PLAYS: 3B Prado (2), 3B CABRERA, VERLANDER-KINSLER-1B V. MARTINEZ, V. MARTINEZ, RF Parra, KINSLER-V. MARTINEZ, HOLADAY-V. MARTINEZ (2), CF Peralta, CABRERA-KINSLER, LF Trumbo-2B Hill.
MISPLAYS: LF DAVIS
BASERUNNING NEWS: A close game with plenty of baserunners, but no steal attempts. DAVIS (on base three times himself) wishes he would have taken one more base on his double (it was offered). CABRERA thought his (would-be) double off the CF "balcony" was a HR (I sure did), which may have played a part in how Trumbo was able to gun him down. It still went as the game-winning hit (JACKSON scored from 3B).
THE BIG HIT: None on, 2 out, Tigers up 3-2 in the 6th, Parra HR off Verlander.
THE BIG OUTS: Men on 1st and 3rd, 2 out, Tigers up 4-3 in the 7th, ALBURQUERQUE retires Goldschmidt (groundball 3B, forceout at 2B).
GOOD HITTING: JACKSON
BAD HITTING:
GOOD PITCHING: CHAMBERLAIN, NATHAN, Stites
BAD PITCHING:
OBVIOUSLY: The Tigers answered the comeback and won a close one the way you should.
AND, BUT, ALSO: HOLADAY-V. MARTINEZ to pick off Inciarte at 1B in the 7th was huge, a game-changer. Or a game-keeper, just when momentum was starting to tilt the other way. The HUNTER home run to LF sure got out of the park in a hurry. An outstanding game defensively for both teams, but it made the winning difference for Detroit.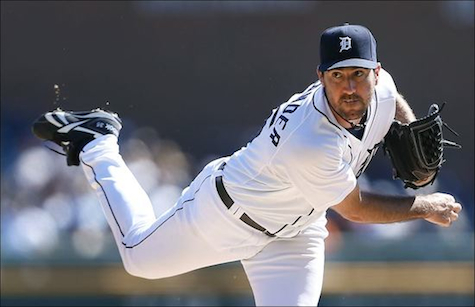 Game 97: Porcello v. Anderson. DIAMONDBACKS 5, Tigers 4. Up 1, down 1.
NICE PLAYS: RF Parra, PORCELLO, P Anderson-2B Hill, KINSLER-SUAREZ-1B V. MARTINEZ, SUAREZ-V. MARTINEZ, Hill, CF Peralta-C Montero, Hill-1B Goldschmidt
MISPLAYS: 3B Prado, C Montero
BASERUNNING NEWS: Peralta's two triples were impressive as feats of baserunning alone. JACKSON did a fine job staying out of a DP and came around to score. Nice bunt by KINSLER goes for a hit and puts two on. HUNTER's jump on the SB attempt would have been amazing if the guess about Anderson's imminent delivery would have been correct (easy 1-4 out). Great hustle by KINSLER going first to third was a big deal in the Tigers' dramatic 8th, as was getting caught in an extended rundown between 3rd and home (if you're going to get caught, you can't do it much better). All works out for the best with the help of a key pinch-running assignment for KELLY.
THE BIG HIT: Bases loaded, 2 out, Tigers up 4-3 in the 8th, Montero 2-run single off KROL.
THE BIG OUT: Runners on 1st and 3rd, none out, Tigers down 3-2 in the 8th, Ziegler gets a grounder to 1B from V. MARTINEZ and KINSLER is thrown out trying to score from 3B.
GOOD HITTING: Montero, Peralta, CABRERA
BAD HITTING: AVILA
GOOD PITCHING: PORCELLO, Anderson, De La Rosa
BAD PITCHING: COKE, ALBURQUERQUE, KROL, Ziegler
OBVIOUSLY: An exciting Detroit comeback is quickly erased by 1 inning of bullpen.
AND, BUT, ALSO: I don't want to wear out the phrase, but this was playoff baseball. Great game. Pitchers Ziegler and COKE were both struck by line drives that deflected off them in the 8th inning, and in neither case did the pitching improve as a result. But while Detroit got an out thanks to 3B CABRERA, COKE's two subsequent walks were the runs that won the game for Arizona.

Game 98: Sanchez v. Cahill. Tigers 11, DIAMONDBACKS 5. Never behind, up 7.
NICE PLAYS: RF Parra, 3B CABRERA-KINSLER-1B V. MARTINEZ, KINSLER-ROMINE-V. MARTINEZ, CABRERA-V. MARTINEZ, LF Trumbo, KINSLER
MISPLAYS: SANCHEZ, 2B Hill, Trumbo, C Montero, P Stites
BASERUNNING NEWS: The Diamondbacks' stolen bases were definitely on SANCHEZ. And they both led to runs. V. MARTINEZ had get up and go moving 1st to 3rd on the KELLY single, which played a part in enabling KELLY to score from 1B on the subsequent AVILA double. CABRERA was wincing after the slide at home on the sacrifice fly.
THE BIG HIT: Runners on 1st and 3rd, 1 out, 0-0 in the 2nd, AVILA 2-run double off Cahill.
THE BIG OUTS: Runners on 1st and 2nd, 1 out, Tigers up 7-5 in the 7th, CHAMBERLAIN retires Goldschmidt (6-4-3 DP).
GOOD HITTING: CABRERA, JACKSON, Parra, Gregorius
BAD HITTING: Montero
GOOD PITCHING: HARDY, De La Rosa, Perez
BAD PITCHING: Cahill, SANCHEZ, Stites
OBVIOUSLY: Another lead was evaporating before the Tigers put it away in the 8th.
AND, BUT, ALSO: The AUSMUS challenge that overturned the out call on ROMINE at 1B (subsequently scored an error on 2B Hill) opened the door for 4 more two-out runs in the Tigers 4th. Big. CABRERA had to look long and hard from home plate at his 3-run HR that put the game out of reach (it hit the LF foul pole). Bullpen-proof, but the bullpen pitched well anyway.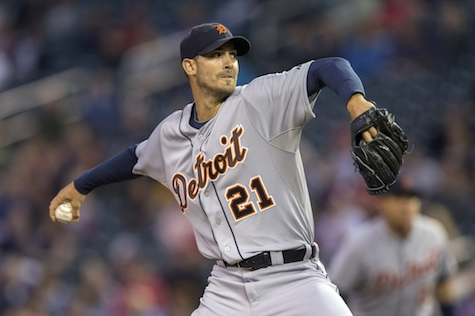 "It's great to be alive and to be a Tigers fan."

Game 99: Scherzer v. Richards. Tigers 6, ANGELS 4. Down 2, up 3.
NICE PLAYS: RF Calhoun (2), SS Aybar-1B Pujols, HUNTER-SUAREZ, C Conger, CF Trout (2), 3B Freese, JACKSON, LF Hamilton, SUAREZ-KINSLER-CABRERA
MISPLAYS: Conger, SUAREZ
BASERUNNING NEWS: Trying to catch the Tigers off guard with a suicide squeeze backfired when Aybar's first-pitch bunt turned into an easy pop to CABRERA at 1B. JACKSON burned from 1B to home to score that big 5th run. SUAREZ made it look easy stealing 2B, and soon scored.
THE BIG HIT: Men on 1st and 2nd, none out, Tigers down 3-1 in the 6th, HUNTER RBI double off Richards.
THE BIG OUTS: Men on 1st and 3rd, none out, Tigers up 6-3 in the 8th, CHAMBERLAIN retires Hamilton (sacrifice fly) and Aybar (6-4-3 DP).
GOOD HITTING: SUAREZ, Calhoun
BAD HITTING: Aybar
GOOD PITCHING: SCHERZER, NATHAN
BAD PITCHING:
OBVIOUSLY: Detroit answered the sudden L.A. outburst right away, added on, and held on. Beautiful.
AND, BUT, ALSO: JACKSON's leaping, HR-robbing catch of the Calhoun drive in the 7th was the defensive game-winner to match the CASTELLANOS double in the 6th that put the Tigers on top. SCHERZER only sagged in one inning, and the Angels certainly made the most of very little. NATHAN was the closer we'd heard about way back when: The Angels were flailing away, 12 pitches, 3 swinging strikeouts. HUNTER got buzzed high and tight (97 MPH) for ball four in his first AB against Richards; a bit scary.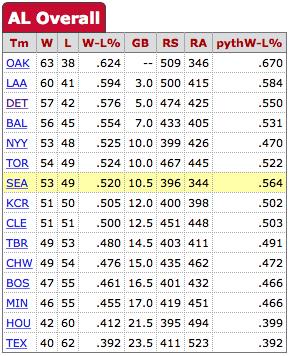 Game 100: Smyly v. Skaggs. ANGELS 2, Tigers 1. Up 1, down 1.
NICE PLAYS: 3B Freese-1B Pujols, P Skaggs, Skaggs-Pujols-2B Kendrick, Kendrick-SS Aybar-Pujols, HUNTER, SUAREZ-CABRERA, LF J. MARTINEZ, AVILA-SUAREZ, SUAREZ, KINSLER-CABRERA
MISPLAYS: LF Hamilton, Freese, KINSLER, HUNTER-SUAREZ
BASERUNNING NEWS: SUAREZ got a little bold with the jump off lefty Skaggs (playing SMYLY) and was an easy POCS. Nailing Aybar stealing 2B late in the game above average in both form and impact for AVILA-SUAREZ. Letting Pujols go 1st to 3rd in the 8th (even though he wouldn't score) was a subtle example of how the Tigers defense softens up when it can least afford it, "little" things not done quite right.
THE BIG HIT: Runners on 1st and 2nd, 2 out, 1-1 in the 6th, Navarro RBI single off SMYLY.
THE BIG OUT: Bases loaded, 2 out, Tigers up 1-0 in the 6th, Morin strikes out HUNTER.
GOOD HITTING:
BAD HITTING: AVILA
GOOD PITCHING: Skaggs, SMYLY. Jepsen
BAD PITCHING:
OBVIOUSLY: A well-pitched game, with both teams mounting rallies in the decisive 6th inning (different results).
AND, BUT, ALSO: SMYLY was great, bullpen was good, and the defense was pretty sharp, but unfortunately, the Angels pitchers were a match for all three. HUNTER covered JACKSON nicely on a play (double that could have been more) that I was sure saved a run (it really didn't, none on, but still), and then struck out (3rd out) with the bases loaded next half inning. Hamilton leaving the game early turned out to be bad luck for Detroit. (I remember watching the game when it aired and thinking Hamilton had been pulled for dogging it to 1B, but of course it all had to do with injury).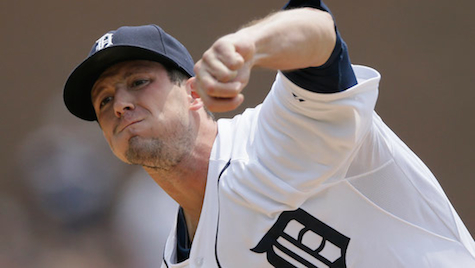 Game 101: Verlander v. Shoemaker. ANGELS 4, Tigers 0. Behind from the 2nd on.
NICE PLAYS: HUNTER (2), P Shoemaker-1B Pujols, LF Navarro (2), SS Aybar, CASTELLANOS-CABRERA (2), CASTELLANOS-KINSLER, LF J. MARTINEZ-AVILA, CF Trout
MISPLAYS: HUNTER (2), KINSLER
BASERUNNING NEWS: SUAREZ had it rough on the bases, picked off at 1B and then called out on an otherwise good bunt – for stepping on home plate.
THE BIG HIT: None on, none out, 0-0 in the 2nd, Navarro HR off VERLANDER.
THE BIG OUT: Men on 1st and 3rd, 2 out, 0-0 in the 1st, VERLANDER retires Kendrick (groundout to P).
GOOD HITTING: Navarro
BAD HITTING: McDonald
GOOD PITCHING: Shoemaker
BAD PITCHING:
OBVIOUSLY: Quality start against outstanding start not a contest, no drama (well, some – it was mostly close) and certainly no offense from Detroit.
AND, BUT, ALSO: You wouldn't have suspected that the game had ended in the 1st when V. MARTINEZ struck out to strand a runner at 3B, but the Tigers were just up against it with Shoemaker (3 hits and 0 walks in 7 IP). AUSMUS was tossed in the 3rd for arguing legitimately that Mike Scioscia had challenged the safe call on SUAREZ at 1B (overturned, pickoff) much too late. Jim Joyce countered that the umps have discretion on what to review, also legitimately, as it turns out. Someone tell that Navarro guy to go away.

Game 102: Porcello v. Santiago. ANGELS 2, Tigers 1. Up 1, down 1.
NICE PLAYS: RF Calhoun (2), SUAREZ-KINSLER (2), KINSLER-SUAREZ-1B V. MARTINEZ, CASTELLANOS, P Smith-1B Pujols, LF DAVIS
MISPLAYS: PORCELLO, JACKSON, C Conger
BASERUNNING NEWS: Heads-up baserunning by Aybar (and the perfect bunt from Kendrick that put Aybar at 2B) turned out to be pretty large in a game with few baserunners at all.
THE BIG HIT: None on, 1 out, 1-1 in the 8th, Freese HR off CHAMBERLAIN.
THE BIG OUTS: Runner on 2nd, 1 out, 1-1 in the 5th, PORCELLO recovers from his own costly error to retire Navarro (lineout 3B) and Freese (lineout CF).
GOOD HITTING:
BAD HITTING:
GOOD PITCHING: PORCELLO, Santiago, Morin
BAD PITCHING: CHAMBERLAIN
OBVIOUSLY: Neither side hitting (0-4 RISP combined), a duel someone had to lose.
AND, BUT, ALSO: Oh, man! An instant of PORCELLO-JACKSON clown show,  CHAMBERLAIN serves up a meatball, and there's your ballgame. Except for the 3 hits, no walks part. Bad day for the bats, and (DH) CABRERA (he of all the "offense" in the prior two games) was worst of the bunch. Tough luck for PORCELLO, but he did help to make it that way.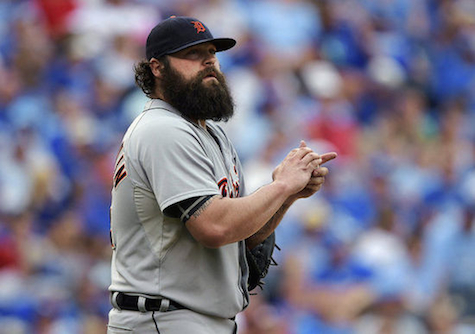 Game 103: Quintana v. Sanchez. White Sox 11, TIGERS 4. Up 2, down 9.
NICE PLAYS: SUAREZ-1B V. MARTINEZ, SS Ramirez-2B Beckham-1B Abreu (2), RF Viciedo, JACKSON, KINSLER, HOLADAY-SUAREZ, P Quintana-Abreu, 3B Gillaspie-Beckham-Abreu, RF Sierra
MISPLAYS: SS Ramirez, SUAREZ-V. MARTINEZ, SUAREZ, 3B CABRERA, LF DAVIS (2), RF J. MARTINEZ
BASERUNNING NEWS: J.  MARTINEZ is quite the triples guy. ROMINE, an early substitution, promptly got himself picked off 1B with a big sleeping lead. The White Sox made the most of their many baserunners; Tigers, maybe not so much. A good caught stealing on Gillaspie (and good AUSMUS challenge) did thwart a big inning brewing in the 4th.
THE BIG HIT: Men on 1st and 2nd, 1 out, 2-2 in the 7th, Flowers single that scores a run on E7 off SANCHEZ.
THE BIG OUT: Men on 1st and 2nd, none out, 2-2 in the 7th, SANCHEZ retires DeAza (popout SS).
GOOD HITTING: Abreu
BAD HITTING: DeAza, DAVIS
GOOD PITCHING:
BAD PITCHING: SORIA, KROL, Thompson
OBVIOUSLY: It *was* a game for 6 innings, Defense, bullpen intervene.
AND, BUT, ALSO: Yes, the White Sox should have won (they turned 3 double plays to the Tigers 0, for one thing), but not this big. The 7th was brutal, the whole mess started by 3B CABRERA. It may as well have been a position player pitching instead of SORIA: 15 pitches, 6 runs. There seemed to be some doubt on the JACKSON HBP (Webb) whether the ball had hit his bat rather than his hand. Clearly, it was the latter. Maybe the pain display wasn't dramatic enough (see HUNTER for lessons).
.

Game 104: Noesi v. Scherzer. TIGERS 7, White Sox 2. Never behind, up 6.
NICE PLAYS: ROMINE-KINSLER-CABRERA, SCHERZER-KINSLER-CABRERA, SCHERZER-CABRERA, 2B Beckham-SS Ramirez-1B Abreu, Abreu
MISPLAYS: Ramirez, C Nieto
BASERUNNING NEWS: Speed merchant CABRERA raced home from 2B to score (as did fellow speed merchant V. MARTINEZ soon enough), nice, but I wish he'd stop sliding when it wasn't necessary.
THE BIG HIT: Runners on 1st and 3rd, 1 out, Tigers up 3-0 in the 1st, CASTELLANOS 3-run HR (opposite field, nice catch by a fan) off Noesi.
THE BIG OUTS: Runner on 1st, none out, 0-0 in the 1st, SCHERZER retires Ramirez (6-4-3 DP).
GOOD HITTING: CASTELLANOS, J. MARTINEZ, HUNTER
BAD HITTING: JACKSON
GOOD PITCHING: SCHERZER
BAD PITCHING: Noesi
OBVIOUSLY: Wrapped up in the first inning, and no lead evaporation.
AND, BUT, ALSO: The Tigers pummeled Noesi early, and SCHERZER was both good and very efficient, keeping a solidly played game a nicely uneventful win. The Dunn HR (off ALBURQUERQUE) was a bit unusual, especially for a Dunn HR. It hit the top of the wall in RF and bounced between wall and railing in a way that left it improbably just lying on top of the wall. A "doubter," I suppose.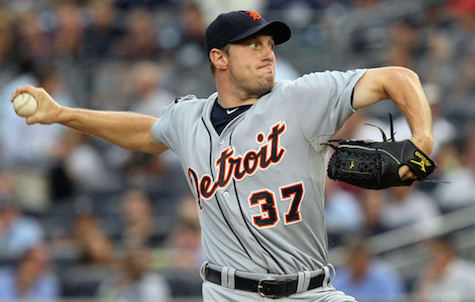 Game 105: Danks v. Smyly. White Sox 7, TIGERS 4. Up 1, down 3.
NICE PLAYS: SUAREZ-KINSLER-CABRERA, SMYLY-KINSLER-CABRERA, SS Ramirez-C Flowers, 1B Abreu-Flowers, AVILA-CASTELLANOS, 2B Beckham, KINSLER, Ramirez-Beckham-Abreu, CASTELLANOS, HUNTER, Ramirez-Abreu, Beckham-Ramirez-Abreu
MISPLAYS: CF Eaton, LF J. MARTINEZ (2), 2B Beckham, AVILA (4), LF Viciedo, CASTELLANOS, 3B Gillaspie
BASERUNNING NEWS: I'd call KINSLER's double + E8 more of a triple, such a good read, great hustle, and exciting play as it was. Unfortunately, coming home on contact on the CABRERA grounder to SS was not such a good plan (much too hard-hit). SMYLY catching Eaton (1) in a POCS was a great way to end the 2nd not a moment too soon. Allowing Konerko (at age 97) to move 5 BASES en route to two runs scored says something about the Tigers' OF defense. J. MARTINEZ got greedy on his single (+ Viciedo bobble) that HUNTER was blazing to 3B on and essentially killed the inning. Contrast this with Eaton getting to 3B on the single to LF (no bobble, just no arm) and what happened then. If you thought V. MARTINEZ actually beat out a DP, you're technically correct (it withstood a challenge), but he was out at 1B.
THE BIG HIT: Man on 1st, none out, 4-4 in the 7th, Ramirez single off SORIA moves Eaton to 3B with Ramirez taking 2B on the throw.
THE BIG OUTS: Bases loaded, 1 out, Tigers down 5-4 in the 7th, SORIA retires Beckham (popout 2B) and strikes out Flowers.
GOOD HITTING: Eaton, Sierra, HUNTER, CASTELLANOS
BAD HITTING: Garcia, CABRERA
GOOD PITCHING: Belisario, Guerra, HARDY
BAD PITCHING: SMYLY, Danks, CHAMBERLAIN
OBVIOUSLY: Back and forth for 6 innings before the Tigers threw in the towel.
AND, BUT, ALSO: Certainly was dramatic and action-packed. Failing to plate the run (from 3B) in the 1st set the tone for how frustrating it would end up. A few failures at critical junctures sealed Detroit's fate in a winnable game, maybe. Or perhaps it was just being out-defended and outrun, after all.

Game 106: Morales v. Verlander. TIGERS 4, Rockies 2. Never behind, up 3.
NICE PLAYS: CF DAVIS (3), SS Rutledge-1B Morneau, RF Gonzalez, CASTELLANOS
MISPLAYS: CABRERA, KINSLER, CASTELLANOS, HOLADAY
BASERUNNING NEWS: DAVIS didn't really steal a base that counted (the batter walked), but it looked good. Coming home to score from 1B earlier looked even better. Even scoring from 2B looked amazing; just the way DAVIS runs. All told, he was involved in all the Detroit scoring. Barnes had a lesson for Detroit in how to score from 3B running on contact.
THE BIG HIT: Runners on 2nd and 3rd, 1 out, 0-0 in the 5th, DAVIS 2-run single off Morales.
THE BIG OUTS: Runners on 1st and 3rd, 1 out, Tigers up 3-1 in the 7th, VERLANDER gets through Rutledge-LeMahieu-Blackmon with a run-scoring fielder's choice and two swinging strikeouts.
GOOD HITTING: DAVIS
BAD HITTING: Dickerson, CASTELLANOS
GOOD PITCHING: VERLANDER
BAD PITCHING: Masset
OBVIOUSLY: Detroit stayed a step ahead in a pitchers' game.
AND, BUT, ALSO: It's hard to see how the Rockies managed to have 11 PA with RISP, but obviously they did very little aside from putting them there. A very efficient and rather unstressful outing for VERLANDER. The Colorado runs resulted from – get this – 4 substandard defensive plays from 4 different Tigers in the same inning. Gonzalez hurt himself on a fine catch in RF foul territory.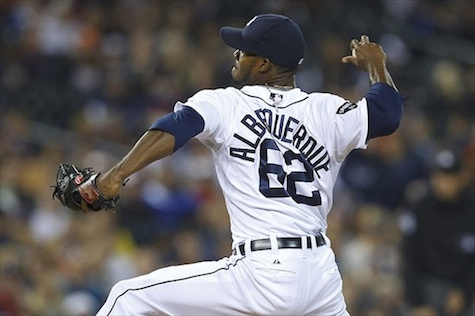 Game 107: Matzek v. Porcello. TIGERS 11, Rockies 5. Down 1, up 9.
NICE PLAYS: AVILA (2), AVILA-CASTELLANOS, 3B Arenado (2), SUAREZ-CABRERA, AVILA-KINSLER, CF Stubbs-1B Rosario-2B Culberson, Culberson-Rosario, CASTELLANOS-1B KELLY, SS Rutledge-Rosario, 2B ROMINE-KELLY
MISPLAYS: RF Blackmon, LF J. MARTINEZ, Rosario, P Matzek, Rutledge
BASERUNNING NEWS: J. MARTINEZ stole 2B and came in on the subsequent (game-tying) RBI single – nice. HUNTER set the aforementioned up by busting up the double play J. MARTINEZ was grounding into – nicer still. DAVIS was daring on his leadoff double – an on-target throw could have gotten him. His "single" later to the RF chalk might have been scored a double if he hadn't fallen down rounding 1st (he got to 2nd anyway). The cavernous depths of Comerica showed up in 4th inning triples from Stubbs (fast but not that fast) and CASTELLANOS (not fast at all but determined). SUAREZ was alert in getting back to 1B safely after his RBI single (AVILA chugging hard 2B to home) when Colorado made a slick cutoff move that almost nailed him.
THE BIG HIT: None on, 2 out, 2-2 in the 3rd, CABRERA HR off Matzek.
THE BIG OUTS: Man on 3rd, 1 out, Tigers up 3-2 in the 4th, PORCELLO strikes out Rosario and McKenry.
GOOD HITTING: Stubbs, KINSLER, AVILA, DAVIS
BAD HITTING:
GOOD PITCHING: PORCELLO
BAD PITCHING: Matzek, McCOY
OBVIOUSLY: Wins made to look easy don't get any better, with runs scored every inning and 10 strikeouts from your starter.
AND, BUT, ALSO: It was bang-bang from the get-go, and it seems like it stayed that way, even when PORCELLO was retiring 14 of his last 15 batters faced. Big time plays early from AVILA (assisted by his 2B & 3B) to nail runners, still a close game then, and strong defense overall, advantage Tigers without a doubt. Detroit never looked back after the 3rd inning blast from CABRERA. The offense went ballistic. Another mop-up job turned into tipping the bucket over, though, with McCOY failing to record an out.

Game 108: De La Rosa v. Sanchez. TIGERS 4, Rockies 0. Ahead from the 3rd on.
NICE PLAYS: LF Pridie, 3B Arenado-1B Morneau (2), SUAREZ-CABRERA, SUAREZ (2), CASTELLANOS-CABRERA, P De La Rosa, SANCHEZ-AVILA-CABRERA, SS Rutledge-Morneau, C Rosario-Morneau
MISPLAYS: De La Rosa, SUAREZ, Rosario
BASERUNNING NEWS: The DAVIS two-out double was cold daring as much as speed, and would turn out to be pretty big as a hit. DAVIS's steal of 2B was uncontested. He then went to 3rd on a WP, and almost scored on the WP on KINSLER's strikeout which took a pretty good play to finish off and record the inning's third out on.
THE BIG HIT: Runners on 1st and 2nd, 2 out, Tigers up 1-0 in the 3rd, V. MARTINEZ 3-run HR off De La Rosa.
THE BIG OUT: Runner on 2nd, 2 out, 0-0 in the 3rd, SANCHEZ retires Dickerson (groundout 3B).
GOOD HITTING: V. MARTINEZ, CABRERA
BAD HITTING:
GOOD PITCHING: SANCHEZ
BAD PITCHING:
OBVIOUSLY: Shutdown lockdown from SANCHEZ, and one big inning is more than enough.
AND, BUT, ALSO: They made it look so easy, but the one big inning (in which Detroit had 40% of their total baserunners for the game) was actually all two-out runs. Really, SANCHEZ made it look easy all by himself, and was followed by a spotless job from the bullpen.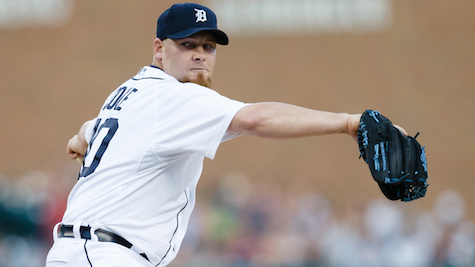 ---

DEFENSIVE SCORECARD (in terms of outstanding plays one way or the other, X = good, O = not)
1B CABRERA XXXOXXOXXXXXXXXXXXOXXXX +17
SS SUAREZ OXOXXXXXXXXXXOXXXOXXXXXOOXXXXXO +17
P SANCHEZ XXO +1
CF JACKSON XOOXOX zero
RF HUNTER XXXXXOXXOOX +5
LF J. MARTINEZ OXXOOO -2
C HOLADAY XXXOOOXOXX +2
3B CASTELLANOS XXXXXXXOXOXXX +9
2B KINSLER XXOXXXXXXXXXXXXOXOXXXXXXXXXOX +21
P SCHERZER OXX +1
C AVILA OOXXXXOOOOXXXXX +3
1B V. MARTINEZ XXXXXXXXXXXXXO +12
P SMYLY XX +2
SS ROMINE XXX +3
3B CABRERA XXXO +2
P VERLANDER X +1
LF DAVIS OXOO -2
P PORCELLO XO zero
RF J. MARTINEZ O -1
CF DAVIS XXX +3
1B KELLY XX +2
2B ROMINE X +1

GAME 91: "Things were rolling fine, and a couple balls find the right spots, and the next thing you know, I'm out of the ballgame," Justin Verlander said. "It [stinks] to be able to throw the ball pretty well, and walk away with a sour taste in your mouth." *** Austin Jackson wraps up the series in K.C. 8 for 18 with 5 runs scored.
GAME 92: "A slider [Al Alburquerque pitch on the Jason Kipnis home run] that was probably a little bit up," Alex Avila said. "I wouldn't say it was a terrible pitch, but obviously trying to look for the strikeout there. It probably caught a little more plate rather than going down and in. But you're talking about centimeters. That's all it takes." *** The Tigers extend their spring training partnership with Lakeland, Florida, through 2036. *** Pitcher Drew VerHagen (2012 draft pick) is called up from Toledo for (and only for) tomorrow's doubleheader spot start.
GAME 93: Corey Kluber has had 6 consecutive quality starts versus Detroit. "I don't think there's a magic formula to it," Kluber said. "I just think it's making better pitches against them." *** VerHagen's debut: "They know he's a young guy, and they were pretty patient the first time through the lineup," Bryan Holaday said. "And then they started being a little more aggressive." *** Top relief pitching prospect Corey Knebel is also (back) up from Toledo, with Chad Smith's demotion being the corresponding move.
GAME 94: Ankle soreness from an old injury has been bothering Joba Chamberlain more than usual lately, and it kept him from staying on for the 9th inning in place of Joe Nathan. *** Brad Ausmus on Nathan: "Joe's done it for years. It wasn't a good outing tonight, but he's our closer." *** Jackson on the Roberto Perez 9th inning double: "I don't ever remember trying to make a catch in that part of the field. As many balls as have been hit out there, I can't recall making a play there. It was a little different. You're running back into a chain-link fence and your depth perception is kind of off a little bit. Went hard after it and wasn't able to come up with it."
GAME 95: "[Drew Smyly] was flipping that breaking ball over at will," Cleveland manager Terry Francona said. "And then, because of that breaking ball, I thought he threw some fastballs that caught some of the plate, but we just weren't ready to hit it."
GAME 96: Verlander: "I could tell right from Jump Street – it felt like I was able to throw the way I want. Really the first time all year that I felt like I've been able to locate my fastball as well as I would like to."
GAME 97: The Major League Baseball Players Alumni Association announced utility player Don Kelly as the Tigers' 2014 Heart and Hustle Award winner. "Every day, I try to go out and play the game the right way," Kelly said. "I love playing the game. I play it with passion and leave everything out on the field. Really, that's all you can do. It's a great game to play and I love playing it." *** Tigers half of the 8th inning: "I chose to put Eury De La Rosa in a tough situation," D-backs manager Kirk Gibson said. "Porcello was just cruising. He had just had a five- or seven-pitch inning. So I basically loaded the bases up and made [Ausmus] make a move and try to get into his bullpen. When Eury went to 3-0, I didn't look so smart. He came back and got [Davis], and that was big for that kid." *** Rick Porcello: "We don't like to lose any game. Regardless of the situation, when we lose, we all take it hard. We win and lose as a team, and it stinks either way – if we're down by 10 or we lose by one, it still stinks."
GAME 98: "It was good to see the guys swing the bat," Ausmus said. "We really haven't busted out for some runs like this since before the break." *** The 7th inning double play on Paul Goldschmidt: "Just had to execute a pitch, and we executed a pitch and got exactly what we wanted," Chamberlain said. *** J.D. Martinez was out of the lineup, day to day with an upper quad injury
GAME 99: Max Scherzer: "That's why when I'm in that situation and I'm having to face Trout, Pujols and Hamilton, if I can just limit the damage, I have a shot. I know my guys can come back and win this game." *** On Garrett Richards and the 6th inning: "We were aggressive off his fastball, and we swung at strikes that inning," Nick Castellanos said.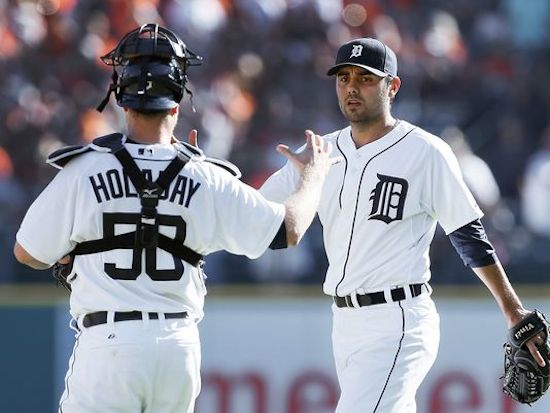 The Tigers trade highly regarded pitching prospects Corey Knebel and Jake Thompson to the Texas Rangers for their closer (and longtime Detroit nemesis) Joakim Soria, though not with the intent of replacing closer Nathan. The plan is to use Soria in a variety of late inning relief roles. Meanwhile, "At this point, I would say we're not counting on [Joel Hanrahan] at all," team president/general manager Dave Dombrowski said.
GAME 100: Smyly on the Efren Navarro hit: "That was the biggest at-bat of the game," he said. "That was the guy I have to get. That's the guy I got all last year coming out of the bullpen. To get a loss on that guy beating you is a little frustrating, but that's how it goes." *** Smyly is the first Tigers southpaw in 21 years to record 11 strikeouts. "The rotation on [Smyly's] cutter, it just must have been so tight tonight that they all thought it was fastballs coming in," Ausmus said.
GAME 101: "We haven't swung the bats great the last couple days," Ausmus said. "Offenses go through ups and downs. That happens."
GAME 102: On the pickoff play gone awry: "If we don't try to at least show Aybar that we're paying attention to him, he's going to take third," Porcello said. "I think it was a necessary play. You take a chance. Just didn't get it done." Jackson adds: "I came up and was looking to throw the ball to third, and then I looked and saw that Howie was going to second. I kind of got caught in between where I wanted to throw the ball. Aybar, being heads-up, could see that. He pretty much never broke stride. As soon as he hit third and saw the ball wasn't in yet, he kept going. Heads-up play by him and just a brain fart by me, pretty much." *** 8 runs in the 4-game Angels series: "Every game was a close game, good pitching games," said Miguel Cabrera.
GAME 103: Castellanos bruises a finger during practice and Miggy gets the start at 3B instead, while Eugenio Suarez hurts his lower back during the game and comes out. Day to day. *** Anibal Sanchez: "I think everything [that has] happened in that situation is something that I don't know what happened. I feel good. I feel great. I've never done that before [this year]. All the time when I got really good beginnings of games, all the time I finish really strong. Right now, that's not happening. It's not because I feel tired. I think it's part of the game." *** Rajai Davis on the 7th inning error: "I was just trying to charge it, just to slow the runner up. I didn't get a perfect hop. It hit my glove. It just hit off it hard." *** Soria on his Detroit home debut: "That didn't go the way I wanted it to. That was probably the worst outing of my career."
GAME 104: Verlander hosted the Agar family in his suite at Comerica Park. *** "We know Noesi throws hard, he throws a lot of fastballs," said Castellanos. "So the game plan was to be aggressive on pretty much fastballs around the plate, because he's going to give it to you. It's not so much swing at first pitches, it's just swing at good first pitches." *** "We all had a plan," said Torii Hunter. "Just to see the team stick with it, be aggressive in the strike zone today, just to see everybody go with that plan and it worked, that's awesome." *** On White Sox starter Hector Noesi settling down after the Tigers' big 1st inning: "It just felt like one big long inning from the third to the sixth," said Tigers starter Scherzer. "Every time I came out, I got a drink of water and by the time I got down below [the inning was over]. Credit Noesi."
GAME 105: On the wild pitch that allowed Adam Eaton take first base on a K in the decisive 8th inning: "It's a ball I block a million times," said Avila. "I should block it. And I didn't. I felt terrible for Soria because it's a whole different inning." *** Ausmus: "I wouldn't say that was a rough outing, to be honest with you. I thought [Soria] threw the ball pretty well." *** After the game, the Tigers formally announce a stunning trade (already in the news, with the trade deadline falling within the game in progress) involving two players who'd started the game: Lefty ace David Price has been acquired in a three-way deal with Tampa Bay and Seattle, at the price of Austin Jackson, Drew Smyly, and minor league SS Willy Adames. Jackson exits the game in the 7th inning to a standing ovation. More on the "human side" of this trade. Meanwhile, Toledo CF Ezequiel Carrera (having an outstanding season at AAA) gets the call to replace Jackson on the roster, the plan being that Davis will move to CF and that Carrera will fill the role of defensive replacement, occasional starter, and pinch runner.
GAME 106: Verlander: "I put [new center fielder Rajai Davis] to work the first couple innings, had him running around pretty good. 'Here it is, go get it' type of thing." Davis: "This is definitely one of the biggest ballparks. When you go to other ballparks, it kind of feels small when you get in their outfield." Verlander: "Those guys were being aggressive. Early on they were hitting some balls hard but right at people. Early in the game you keep the ball in center field, it's tough to hit it out there."
GAME 107: The Tigers become the first team since 2006 to score in every inning. *** On Cabrera's 445-foot home run to center field: "That," winning pitcher Porcello said, "was pretty sweet. I just keep thinking about Miggy's home run. It was awesome to watch." Ausmus: "Frankly, everybody knew it was gone when it was hit. It's not like we were on the edge of our seats. There's not many people that can reach that." *** Pat McCoy is back in the bullpen after DL and then Toledo, so Ian Krol must be out and in Toledo. Presumably. It's getting hard to keep track.
GAME 108: Ausmus on Sanchez: "I've said it before: Sanchez, just pure stuff, might have the best stuff on our team." Sanchez on Sanchez: "That's the key today. When I came to the seventh inning, I said I need to keep the ball down, I need to keep strong like I used to do and I need to show that I can stay longer in the game. So today was a big game for me. I didn't try to throw a couple fastballs and go to another pitch. I just keep my fastball, keep it on the corners, and I used it all the time."
Detroit has scored 5+ runs only 5 times in the last 18 games, and is enduring its most prolonged offensive slump of the season to date. Remove the two outbursts against NL opponents, and you find 16 games (6-10) with 50 runs scored, 68 allowed. *** The Tigers bullpen has taken a turn for the worse, and Soria has been no help at all. Phil Coke (on a two-month run of ERA improvement, for what that's worth) is a kind of indicator. In 7 games, 6.1 IP this period, the ERA is 2.84 and BA .280. However, the OPS is .819, WHIP is 2.05, strike% is 58%, IRS is 38%, and the team's record in these games in 1-6. Yeah. It's beyond stats and perhaps in spite of them. The bullpen is losing games and helping to lose them.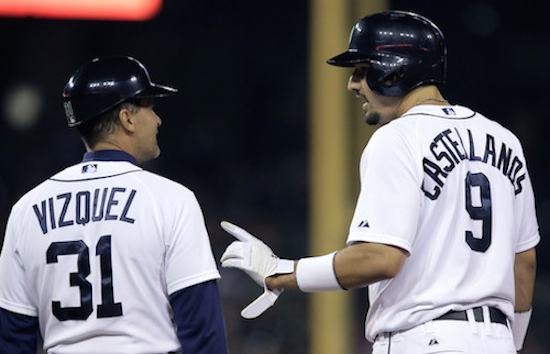 61-47, 1st in the Central, 3rd in the AL, on pace for a 91.5-70.5 season…
RESEARCH MADE POSSIBLE BY:

MAJOR LEAGUE BASEBALL

 and

BASEBALL REFERENCE

.

PHOTO CREDITS: MARTINEZ: Tim Heitman/US Presswire; SANCHEZ: Rich Schultz/Getty Images; VerHAGEN: Mike Mulholland/MLive; VERLANDER: Paul Sancya/AP; PORCELLO: Hannah Foslien/Getty Images; SMYLY: Carlos Osorio; CHAMBERLAIN: Associated Press; SCHERZER: ? ALBURQUERQUE: ? COKE: Rick Osentoski/USA Today; SORIA: Paul Sancya/AP; CASTELLANOS: Duane Burleson/Getty Images.