93-68, AL Central Division Champs. Woo-hoo. 
Seems like only yesterday it was a chilly Opening Day in Minneapolis with Verlander on the hill for Game 1 and Coleman on the game post mound…
Last night: Marlins 2, Tigers 1 (10). Four innings of shutout ball is a tall order for any bullpen. It almost happened, and Alburquerque was the best of the lot in the attempt. But alas, Benoit was flop sweat all the way, and Reed was just lost out there. But you know, Detroit had Cabrera… Fielder… Hunter… Peralta… Infante… Martinez for an AB. One run? ONE RUN?? Three runs in 19 innings? Against the Miami Marlins??? Are you kidding me? Anyway, Sanchez missed out on win #15 as a result, officially, and possibly win #20, unofficially.
What the Tigers have that is grrrrrrrrreat is starting pitching. Nothing else. Defense isn't too bad, until you factor in the inability to prevent teams from stealing. The bullpen is not good. Not far from awful, if you want to know the truth. The hitting is overrated, and now you have a situation where Cabrera can't hit doubles (nothing new – look at his season total) and doesn't hit home runs. (Really good singles hitter, though.) They can't steal, they can't take the extra base; in brief, runners on amount to no special pressure on the opponent. They are perfectly set up to be feast or famine, which is exactly what they are. The good news is that none of this – or at least not much – was any different when they were winning 12 in a row. So there's no use in any doomsday prognosis for the postseason. Things can turn on a dime.
Check out some pitching stats:
http://bbref.com/pi/shareit/JuJIm
http://bbref.com/pi/shareit/kITpY
http://bbref.com/pi/shareit/UQ1PE
http://bbref.com/pi/shareit/qOedO
Catchers defense?
http://bbref.com/pi/shareit/lqnxG
Team defense?
http://bbref.com/pi/shareit/ZVRIp
Speaking of feast or famine, or really just of famine: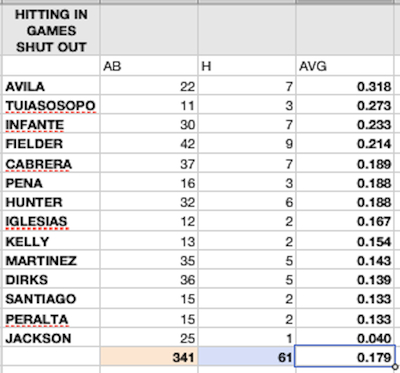 And now the sadder part:

All right. Could the Tigers maybe win #20, I mean #14, for Justin Verlander today? Please? Finish the (regular) season with a win, perchance? (Seeing how likely it seems that 2013 is gonna end with a loss eventually…)
Oh, right. It's down to the wire in the Game Poster League. I need a win to tie. I think. Let's see here…. No! I've lost! Coleman has clinched it. Congratulations, Coleman.
Coleman 31-21
Smoking Loon 32-24
Kevin in Dallas 30-23
… and 93 or 94 wins sounded pretty reasonable. Certainly nothing to complain about.