72-51, 1st place, 6 up on Cleveland and 7.5 on KC. Ho-hum, just another day…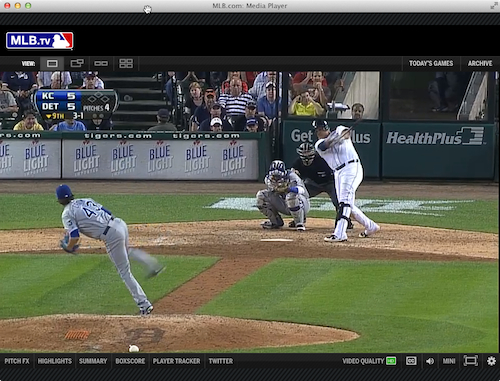 As you can see, Miggy pounded the ball into a misshapen lump and shot it right out of the screen.
OH! How sweet it is. A game like last night's 6-5 win over the Royals is one of those up and down, back and forth affairs where you're telling yourself near the end, "Well, no matter what, it was a good game," knowing full well that if the Tigers lose, what you'll really feel is what Kevin has expressed so well: "I hate baseball." Well, we LOVE baseball now, don't we? The Tigers had to pull this one out, to avenge the blown call and the ejections. Just like against the Phillies. Yeah.
Before Miggy brought us into his legend yet again, it went sorta like this:
The Squeeze: Can you believe it? Leyland called it, Iglesias and Infante executed perfectly, and you would not be mistaken to call this play every bit the game winner Cabrera's home run was.
The Blown Call: Terrible call on the "WP," aka Escobar foul ball. Unforgivably bad. But if you think the tying run scored because of it, I say you're stretching it.
The clutch: Miggy's double to put the Tigers up 4-3. Wasted. Prince's shot to put the Tigers up 5-4 (view the video frame-by-frame, and his bat is still a blur). Wasted.
The narrow escapes: Fister all evening. How did he manage to go 6.1? Great curve, though, and I suppose he got nickel-and-dimed – and clown-showed – some. Veras by the skin of his teeth (and some Princely body parts), and the usual Benoit Show.
The Clown Show: The Pena throwing error. The Holaday throwing error (which the Amazing Mr. Iglesias has a share in; Holaday's second crap throw on a SB was all on him.) Santiago's ridiculous error which should absolutely be ruled an error. What was he looking at? Was he awake when the ball was hit? The game itself nearly bounced past him. Sheesh.
Anyway…
I was thinking about the (now) 60-23 in quality starts and the flip side of it, 12-28 in non-quality starts. And eventually came up with:
Hats off to the starter wins: 60
Decent non-QS + win: 5
Bad non-QS rescued by bats/bullpen: 7
QS wasted by bats and/or bullpen: 23
Blame the starter losses: 13
Non-QS blown by the bullpen: 8
Non-QS blown by the bats: 4
Decent non-QS blown by the bullpen: 2
Decent non-QS blown by the bats: 1
If that doesn't blow you away, I'm guessing you would also say that Miggy is "putting up decent numbers." Yeah. He's batting a "solid" .358.
Wondering whether there's anyone who gets Miguel Cabrera out took me down the following avenue. I invite you to check out the following matchups. If you're too lazy to look up the numbers yourself, I'll do you a favor by giving you the hint "first name = good news, second name = bad news." I could have mixed it up just to confuse you:
Miguel Cabrera v Phil Hughes… and v David Price
Prince Fielder v Ervin Santana… and v Kevin Correia
Victor Martinez v David Price… and v C.J. Wilson (and Doug Fister, for laughs)
Torii Hunter v Jon Lester… and v Clay Buchholz
Austin Jackson v Luke Hochevar… and v Chris Sale
Omar Infante v Mike Pelfrey… and v Mark Beuhrle
Alex Avila v Jeremy Guthrie… and v Corey Kluber
Brayan Pena v Derek Holland… and v Chris Sale*
Don Kelly v Justin Masterson… and v Phil Hughes
Matt Tuiasosopo v Gio Gonzalez… and v John Danks
Ramon Santiago v Bartolo Colon… and v Felix Hernandez
Andy Dirks v Jeremy Guthrie… and v Ubaldo Jimenez
Justin Verlander v Nick Swisher… and v Billy Butler
Max Scherzer v Alexei Ramirez… and v Alex Gordon
Anibal Sanchez v Josh Willingham… and v Seth Smith
Doug Fister v Asdrubal Cabrera…. and v Michael Brantley
Rick Porcello v Alexei Ramirez… and v Carlos Santana
Joaquin Benoit v Derek Jeter… and v Lance Berkman
Jose Veras v Alex Rios… and v Kevin Youkilis
Phil Coke v Denard Span/Ben Zobrist… and v Chris Davis
Al Alburquerque v Asdrubal Cabrera.. and v Alex Rios
Drew Smyly v Joe Mauer… and v Paul Konerko
*Here's some consolation: Martinez, Hunter, and Tuiasosopo eat him alive.
I don't know what the following means, but we like to look at numbers, so here are some more to look at. This is combined runs & the Tigers record in corresponding games:
< 5: 12-14
6 – 11: 41-26
12 +: 19-11
I guess it might be a bit of a surprise that Detroit is so close to .500 in the < 5 category.
And now more from the Let's Be Appreciative department:
1. Let's not forget that at the time of his suspension, Jhonny Peralta was arguably the best all-around SS in the American League. His contribution to the success of the team was not small. I doubt that PEDs had anything to do with it. Plus, he kind of brought us Jose Iglesias. Could be a retroactive MVP thing happening here.
2. Last night's game notwithstanding, the Tigers have become a pretty good defensive team while we weren't looking. With the addition of Iglesias, I'd say more than a shade above average. The only liabilities that come to mind are 3B Cabrera (and this is moderated by his ability to confuse you with great plays), IF Santiago (not be confused with a late-inning defensive replacement at ANY position any longer, I'm afraid), and maybe the catchers, slightly. OK, some of the pitchers are pretty scary (in the wrong way) as defenders. OK, so maybe the Tigers are merely average defensively. That's still an improvement. It's trending upward.
3. As Coleman pointed out, AlburCokey(TM) appeared in two consecutive games on the same day without a) increasing its ERA, b) blowing a lead or a tie, or c) frightening us badly. I'm not sure what to make of it, but this has to be called good news, even in a losing cause.
Looking ahead (never too early to speculate), it goes without saying that some 2013 Tigers won't be 2014 Tigers. The following ordered list of "top prospects" isn't a wish list, but an educated guess list. Some of it's pretty obvious:
1. Octavio Dotel
2. Jhonny Peralta
3. Ramon Santiago
4. Matt Tuiasosopo
5. Phil Coke
6. Al Alburquerque
7. Doug Fister
8. Joaquin Benoit
9. Alex Avila
In an earlier draft I made the flip comment that Dotel and Avila would be retiring. The notion of Avila retiring is pretty bizarre speculation. But hasn't he struck you all season as a guy who doesn't want to be there? I mean, seriously. And he would seem to have an off-the-field career in baseball ahead of him, yes? Maybe it's not so bizarre to speculate that we would take a few years off from the grind for family reasons before coming back to the organization in another capacity. That speculation aside, the catching situation in 2014 is ripe for all kinds of speculation.
Max Scherzer's only non-quality start since May 21* was an 8 IP, 4 R affair against Texas that you'd have to call decent and winnable; it's where he took his only loss of the season. In Detroit, sadly enough. He's faced the Royals twice, first time at home not so good (but a win), next time in KC an outstanding effort (and win). Is there anyone else we'd rather have on the mound today looking for the series win? I'm thinking that the bats have awakened now – nap time was Friday. Nap time is over.
*By my calculations, that is about 3 months ago.
Go Max. Go Miggy. Go Tigers. I don't like Matt Tuiasosopo. Never did, never will. His flash in the pan time has come to an end. I hope he's not even in the lineup today. Bruce Chen is going to hang 3/4 of a golden sombero on him if he is, and he'll probably commit 7 errors in LF and get thrown out at home twice (despite never reaching base)…