Tigers set to send talented outfielder to Tampa for guy who throws hard
I'm having a hard time even writing about the rumored deal that will send Matt Joyce to Tampa for Edwin Jackson. Joyce might flame out, but Jackson has yet to even burn.
Jackson has a fastball that averages in excess of 93 MPH. That's fast, but he doesn't seem to fool a lot of people with a K rate last year that was lower than Nate Robertson's. At least he made up for it by walking 77 hitters in 183 innings. Marcel projects him to have a FIP ERA of 4.64 which is a considerable improvement over the 4.89 he's posted over the last 2 years. Jackson is also a flyball pitcher meaning he won't benefit from the new left side infield defense. Jackson will only be 25, but he is out of options.
In exchange the Tigers surrender a their most promising left handed hitting prospect. A solid defender who posted an .831 OPS as a 23 year old making his big league debut. He's blocked, sort of, this year but has 2 options left. And his being blocked is contingent on the health of Carlos Guillen and Gary Sheffield. In essence he was only going to be blocked in 2009 and even then it's questionable.
I don't know how Jackson fits in, whether he will be a starter or reliever. Oh yeah, and he's eligible for arbitration. Good luck Rick Knapp. I don't get this one at all.
DRays Bay loves this deal, as they should.
UPDATE: This is official as Friedman and Dombrowski have met with the media. Joe Hamrahi of Baseball Digest Daily was in there and posted these notes in his twitter feed.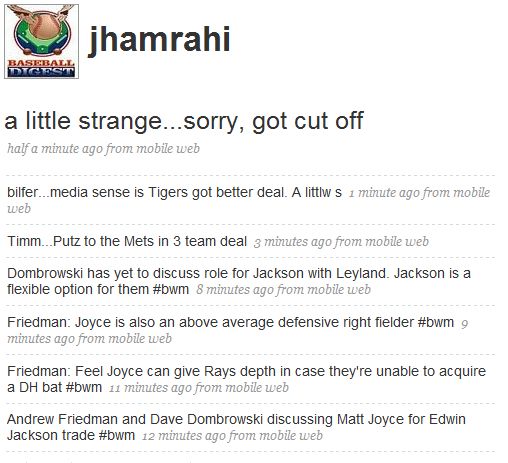 So his role as starter or reliever is undetermined.