PREGAME: The Tigers try to extend their 4 game home winning streak as they look to finish off a sweep of the Rangers. Texas pitchers have thrown a lot of pitches the last two nights and I'd guess that there are probably at least 3 pitchers in their pen who are unavailable today. So getting to the starter early could prove fruitful.
That starter is Scott Feldman who is making his second start. He went 6 innings against the Blue Jays on April 13th and allowed 3 runs on 8 hits, 2 walks, and 3 strike outs.
The Tigers send out Jeremy Bonderman who has more walks than strike outs so far this year. That ratio swung the wrong way after his 6 walk effort on Saturday against the Blue Jays.
TEX @ DET, Thursday, April 24, 2008 Game Preview – Baseball-Reference.com
Game Time 1:05
POSTGAME: Let us take a moment to rejoice in a sweep and a 4 game winning streak. A series in which the Tigers went from a middling offensive team to the 2nd scoring-est team in the AL. A series in which Curtis Granderson returned to his rightful place at the top of the lineup and Placido Polanco avoided a DL stint. A series where the bullpen was nearly flawless.
Now let's look at the warts…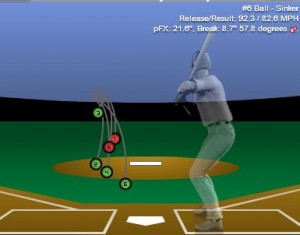 A Tigers starter once again fails to pitch deep into a game, and they continue to struggle with control. The image above is Jeremy Bonderman walking in a run. And there he was, done for the day without getting out of the fifth inning and having thrown 111 pitches. It was just one of his seven walks for the day. This following an outing in which he walked six.
Whether it is a matter of being incapable of throwing strikes, or an unwillingness to do so, the starting pitching has been miserable. In a series in which the Tigers outscored the Rangers 37-10 one one starter picked up a win while the bullpen had to throw 13 of the 27 innings. Instead of being well rested before taking on the Angels and the Yankees, the pen will probably be limited in availability for tomorrow night's game.
Yes, things will have to get better in the rotation. But a sweep is still a sweep. There's no need to apologize for beating up a team, even one that is really struggling.