Jim Leyland has 2 priorities this season. First he wants to improve baserunning. On that front it seems like he was reading Detroit Tiger Tales' analysis. His other initiative is improving the Tigers batters approach when they are presented with a two strike count. The Tigers strike out a lot, which means they get to, and struggle with their share of 2 strike counts. But are they really worse than the rest of the league when down in the count?
The following table shows both the Tigers stats when the count reaches 2 strikes, as well as all of MLB in 2006.


Neither group fared well with 2 strikes – which of course isn't unexpected. And much like all Tigers offensive statistics, this breakdown showed a higher than average slugging percentage, and a sub average OBP, strikeout, and walk rates. The fact that these trends seem to continue in pretty much any hitting count or situation points to it being an all encompassing attribute. Targeting a specific count the change the approach probably won't have a big impact.
On the other hand, with a 2 strike count being the last stop before a strikeout, it's as good of place as any to start if your goal is to cut down on the K's.
Battling
Now everybody loves to see an extended at-bat where a batter shortens up and just works the pitcher until something gives. The guys choke up on the bat and are just trying to make contact. But does this actually help?
The table below shows the results of what happened last year (all teams) the more pitches were seen after the 2nd strike of the at-bat.

It's true. The longer a batter can hang on the better the results. The OBP goes up, the batting average goes up, the strike out rate goes down.
Now I've thought all along that the Tigers problem isn't striking out, it is not walking enough. But looking at how the walk rate picks up, maybe if the Tigers can learn to battle like the rest of the league they can take care of 2 birds with one stone.
Alas, the Tigers "battle" just as well as anyone else. In fact the distribution of plate appearances and pitches after 2 strikes is pretty much identical to the rest of the league.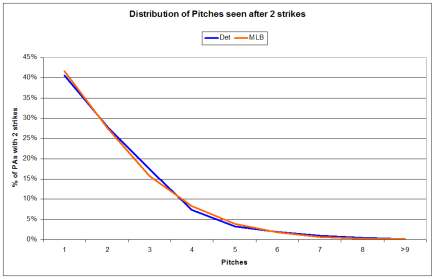 Alas, it doesn't appear to be only a matter of battling. It still comes down to laying off the pitches that are out of the strike zone and getting more free passes.
Tomorrow we'll take a look at the starting lineup and see who excels in 2 strike situations and who struggles.
UPDATE: For those wishing to see how other teams fared, here are the results for all counts that contained at least 2 strikes:

The information used here was obtained free of charge from and is copyrighted by Retrosheet. Interested parties may contact Retrosheet at "www.retrosheet.org".