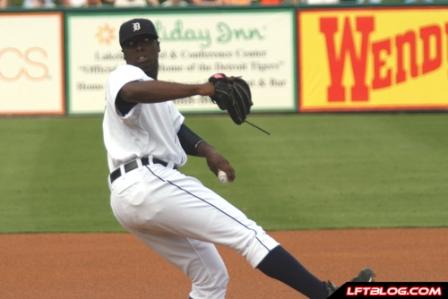 credit Deran @
lftblog.com
. Click pic for more.
While a game the first week of spring training probably means little, you can't help but wonder if today's 3-3 10 inning tie between the Tigers and Indians could be an indicator of how the 2008 season will transpire for these teams.
Of more immediate importance today was the debut of Dontrelle Willis in a Tigers uniform. Dontrelle was admittedly nervous at the start of the game. Willis allowed three hits, including a homer in two innings of work. But the reports were positive with Leyland complimenting Willis's fastball and Willis tipping his cap to Ben Francisco who's homer came on a good pitch. No word on whether Willis was using his full repertoire of if he was focusing on fastball-change as the other starters have done in their first appearances.
Other notes:
Brent Clevlen made a couple of nice plays in center field, at least according to Dan and Jim on the broadcast.
Speaking of Dan and Jim, they gave listeners a little bit of a scare saying that Miguel Cabrera limped to the bench after a ground out. They later clarified saying that everything was OK, but jeez. Don't scare us guys.
I don't put a lot of stock in spring stats, especially for established players. Like I'm not worried that Carlos Guillen doesn't have a hit. But it is worth noting that Brandon Inge has only made 2 outs over 4 games. He's 3 of 5 with 4 walks.
It was the locks for the roster that gave up the runs today with Willis, Todd Jones, and Tim Byrdak all surrendering a run on multiple hits. But it was a solid outing for Denny Bautista who fanned one and allowed a lone hit in his 2 innings.