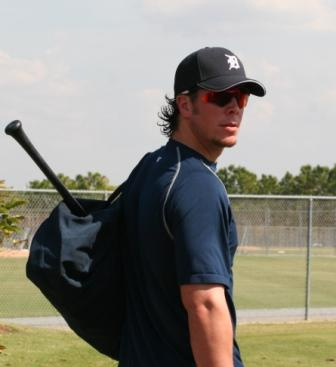 Photo Credit: Roger DeWitt
Brent Clevlen, last year's Florida State League MVP with Lakeland, has picked up right where he left off last season. He got the start in centerfield today, and homered off of Cliff Lee and doubled off of CC Sabathia. This comes one day after he hit a homer and drew a walk against the Braves.
Clevlen hit 302/387/484 last year as a 21 year old in high A ball. While he figured prominently on various team prospect lists, it didn't land him on the Baseball America top 100. (Although he just missed as John Manuel revealed in a chat). The main reason being is that 2005 was his second go around in the FSL. After solid seasons in Rookie Ball and with the Whitecaps, Clevlen struggled in 2004.
Playing as a 20 year old in the FSL he hit a meager 224/300/350 and struck out once every 3.3 at-bats. After hitting 12 homers in 2003 at West Michigan, he only managed 6 in Lakeland. It appeared that the Tigers might have another failed draft pick on their hands. Instead of progressing to AA Erie, Clevlen was sent back to Lakeland in 2005.
Clevlen was selected in the 2nd round in 2002 out of high school. After his successful season last year, BA made him the #4 prospect in the organization and as they project him to break into the big leagues they had this to say:
If Clevlen makes consistent contact like he did last season, the next league he'll repeat is the American.
While Clevlen isn't a threat to make the team this year, his success so far this Spring Training is encouraging. His progress as he moves to AA will be one of the story lines I'll be watching most closely in 2006.
prospects, detroit tigers, lakeland tigers