Game 2016.83: Tigers at Indians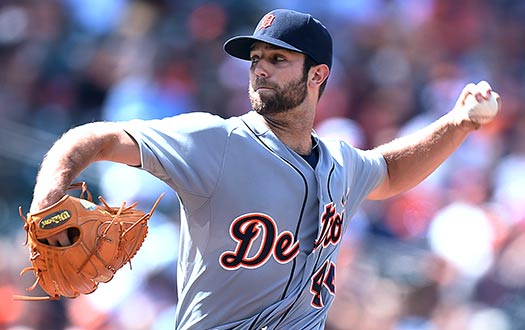 The Tigers swept Tampa Bay, pulled into 2nd place in the Central, and now get another crack at the division-leading Indians.
Here are the schedule times and starters:
Mon  7:10    Daniel Norris (1-0, 4.09) vs. Danny Salazar (10-3, 2.22)
Tue   7:10   Jordan Zimmermann (9-4, 3.95) vs. Carlos Carrasco (4-2, 2.56)
Wed 12:10  Michael Fulmer (8-2, 2.17) vs. Josh Tomlin (9-1, 3.21)
UPDATE: Zimmermanm to the DL with neck strain. Sanchez to start in his place. Molleken to be called up. The Cleveland Curse continues.
Why Cleveland will win this series:
Well, they are Cleveland. As in 9-0 vs. the Tigers Cleveland
They are IN Cleveland. They are 23-12 at home, where they hit especially well. Their batting average at home is a ridiculous .291 (.830 OPS), vs. .234 (.691 OPS) on the road.
Their starting pitching. Their worst pitcher this series is 9-1 with a .3.21 ERA, but that doesn't take into account how they have owned Detroit so far this year. Their team ERA vs. Detroit is 2.00, with a 0.877 WHIP. It's worth noting Salazar is the one guy they did hit this year, putting up 3 runs in 5 2/3.
Why Detroit will win this series:
The Tigers are coming off of a 4 game sweep where they won two games with late come backs, won one in a blowout, and generally pitched, hit and even ran the bases well. The Indians are coming in off of two games where they got completely buried following a 19-inning marathon victory. Still, momentum is only as good as the next day's starter, as the saying goes.
Bullpens. The Tiger bullpen has been getting increasingly solid, and the Indians has been slammed and overworked. Check out these numbers:

81  60  175 Cleveland
35  18   31  Detroit
These are how many pitches each bullpen has thrown over the last 3 games, from this useful site (I don't really like how they gave Bauer 83 pitches for Friday; McAllister is the bullpen guy who pitched 31 replacing Bauer as a starter. Still the difference is huge). The Tigers either have to jump on the starters early, or work up the pitch counts; either way, getting into the bullpen as early as possible will be key.
Key for the Series:
In addition to seeing as much bullpen as possible, Ian and Miggy need to show up this series. In the 9 games so far, Kinsler is hitting .162 (.427 OPS), and Miggy is hitting .172 (.437 OPS). Those are NL pitcher stat lines.
Today's Stop That Damn Drumming Lineup:

Kinsler, 2B
Maybin, CF
Cabrera, 1B
V Martinez, DH
Castellanos, 3B
Upton, LF
Moya, RF
McCann, C
Iglesias, SS