Game 2015.122: Rangers at Tigers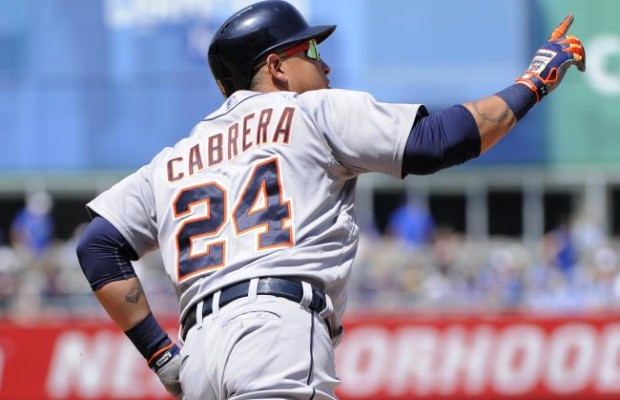 Last night may have been frustrating and disappointing, but you can't say it wasn't a classic 2015 Tigers game:
Pitching or hitting but not both: Justin Verlander easily pitched well enough to win, but once again was the tough luck guy, losing on a 1-earned run performance. Of course, the 2nd run was his fault, but it may not have made any difference. The offense was Miggy and a bunch of human fans. That and the next two categories below meant Cabrera pulled the rare feat of three doubles with no runs or RBI.
Bad base running: the Tigers got their 19th runner of the season thrown out at home, and one doubled off second. It was the same guy, and both instances were bad base running. Not so much the actual out at the plate; but Miggy had two very easy chances to tag and advance from 2nd, and failed to take them.
Double-Plays, of course: The Tigers have now grounded into a league-leading 118 DPs, and have a comfortable 13 DP lead in that category.
Bad umpiring: Justin was visibly upset for not getting calls on the corner, and I don't blame him, since Colby Lewis was getting an extra 6 inches. In the JD at bat in the 9th, there were literally 5 pitches in the exact same spot, and 2 were called balls, and 3 were strikes. The replay guys weren't any better, overturning a call at home, even though there was at best sketchy evidence, and leaving a bad call at 2nd, because hey, there has to be clear evidence.
Anyway, today is another day, and it's hard not to root for journeyman Randy Wolf, who is getting his first Major League start in 3 years today, on his 39th birthday. Has he been around the block? Let's just say Brad Ausmus has caught him.and managed him.
Today's Clap for the Wolfman Lineup:

Ian Kinsler, 2B
Ty Collins, LF
Miguel Cabrera, 1B
Victor Martinez, DH
Julio Martinez, RF
Nick Castellanos, 3B
James McCann, C
Jose Iglesias, SS
Anthony Gose, CF