Game 2015.120: Rangers at Tigers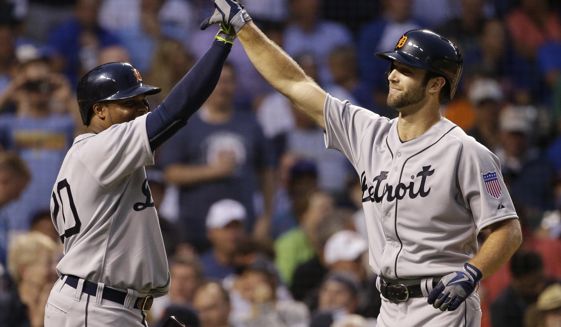 Hmm. Kevin is apparently still stunned by 38 hits in 2 days. Hard to blame him.
Unfortunately, Babe Norris is on the 15-day DL with an oblique strain. I'm calling shut down for the season.
Anibal Sanchez is also on the 15-day DL with a rotator cuff strain. Oh.
Did I mention: oh?
The Tigers went out and bought LHP Randy Wolf from the Blue Jays for 25 delicious sandwiches, enough for each player on the roster. Coaches will have to eat sunflower seeds and leftovers. The Sandwich will also be starting Saturday. Did I mention: oh!?
The Tigers have also purchased from Toledo the contracts of RHP Jose "Oil Spill" Valdez and RHP Guido Knudsen, who has the coolest odd name since Vlad Guerrero.
This is a huge series for Texas. A Tiger sweep would pretty much bury their chance to win the division.
Today's I Bet Castellanos Gets a Big Hit Lineup:

Rajai Davis, LF
Ian Kinsler, 2B
Miguel Cabrera, DH
Victor Martinez, 1B
Julio Martinez, RF
Nick Castellanos, 3B
James McCann, C
Jose Iglesias, SS
Anthony Gose, CF
Alfredo "I'm Glad I Don't Have to Bat After What Babe Norris Did" Simon, P.