Game 2015.92: Mariners at Tigers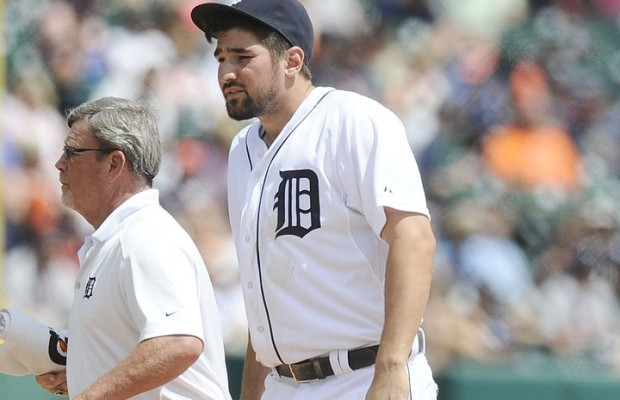 Justin "Yeah But The First Couple Innings Were Good" Verlander got bombed, the Tigers dropped under .500, and now we have an Alfredo Simon start to look forward to.
There's not much more to say about Verlander's pitching, so Steve Shrader reports that Kate Upton has been turning down Justin Verlander proposals, and things have gotten rocky there as a result. Looks like Kate may be selling also.
Castellanos, who has had more than his share of fielding woes, took a ricochet off of his hand then face, but both appear to be OK. Although if he were ball-shy before, as it seems he was, he should be positively ball-freaked out there now.
Of course Castellanos was supposed to have the day off, and was only out there because Ian Kinsler had a bat-breaking meltdown and had himself thrown out of the game. I must say though, between the Kinsler meltdown and Victor Martinez looking like he wanted to bite an umpire's head off, I think it isn't fair to say that these guys don't care out there. They are obviously frustrated also.
Today's It's All Right Lineup:
Rajai Davis, CF
Ian Kinsler, 2B
Yoenis Cespedes, LF
Victor Martinez, DH
JD Martinez, RF
Jefrey Marte, 1B
Nick Castellanos, 3B
James McCann, C
Jose Iglesias, SS
No lefties today; Iglesias back down to 9th to make sure he doesn't get enough bats to go 5-for-5. Since Kinsler batting leadoff was working, he's randomly bumped back to the #2 spot.