Game 2015.82: Tigers at Mariners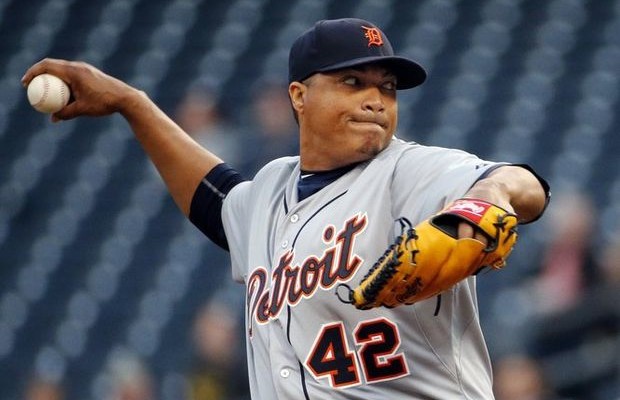 Is it just me, or is Justin Verlander way the heck out of touch with reality? Here's a quote from him yesterday: "There's two ways that you can approach this. You can look at the fifth inning and think negatively. Or you can look at the rest of it and think positively." … "Felt really good about it. It's a shame that I kind of feel out of sync there in the fifth, but it's my fourth start. Gotta keep that in mind."
The 5th inning was not a "negative." It was catastrophic. He once went entire seasons without an inning like that. Last season Justin Verlander was one of the worst full season starters in the majors, He's quickly working his way back into that form.
*****
So the Tigers finish the first half of the season 1 game above .500. And, other than Joba Chamberlain, no one has lost their job. Miguel Cabrera is on the shelf until late August, the only reliable starter (David Price) is also our biggest piece of trade bait, the bullpen remains a mess (as it has been for two years), and there are glaring holes at C and 3B, one of which should be a premium position in the AL.
I'll say what everyone else is thinking but no one else has yet said. It's time to become sellers. Let's trade Price and Cespedes at the deadline for younger talent (hopefully a 3B), and shelf Cabrera for the rest of the year if we have to. We can build an offense next year around Cabrera, Martinez, and Martinez, and Iglesias can anchor an infield for years to come, but unless we get younger and cheaper, we're going to be the Phillies soon.
TIGERS (career numbers off Iwakuma)
Ian Kinsler, 2B (9-for-23, double, 3 HR, 2 walks, 5 K's)
Yoenis Cespedes, LF (10-for-24, 5 doubles, 3 HR, 6 K's)
Victor Martinez, DH (3-for-6, HR, 2 walks)
J.D. Martinez, RF (0-for-3, 3 K's)
Alex Avila, C (0-for-9, walk, 2 K's)
Nick Castellanos, 3B (1-for-3, double, 2 K's)
Anthony Gose, CF (0-for-2, walk, K)
Andrew Romine, 1B (3-for-7, K)
Jose Iglesias, SS (1-for-5, 2 K's)