Game 2015.59: Cubs at Tigers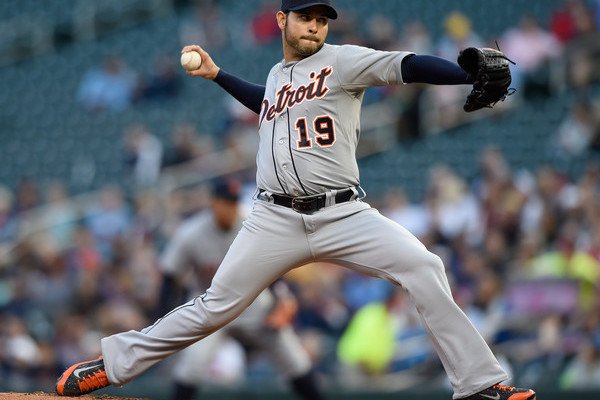 Have the Tigers turned some sort of corner? Their season was beginning to unravel when they headed into Chicago: swept by LA in LA without much of a challenge, then swept by Oakland at home. When the White Sox took the opener in extra innings on Friday, it looked like maybe David Price would be all that was standing between them and another series sweep.,
Price came through in brilliant fashion to stop the bleeding, and, even more heartening, the Tigers came back from an early 4-1 deficit on Sunday to take the series and their 2nd in a row. The comeback was fueled by power, something the Tigers have seen very little of this season. And while the home runs by Cespedes and JD Martinez won the game, perhaps even more encouraging was the 2-for-4 game by Ian Kinsler, following up on Saturday's 2-for-5 performance. You could almost hear the sighs of relief from the dugout. Is Kinsler finally out of his funk? If so, that will change the whole look of the Detroit offense.
In a rare treat the Cubbies head into town for a quick two. These aren't your father's Cubs though: with a lineup featuring Anthony Rizzo (1.057 OPS) and rookie phenom Kris Bryant (7 HR, 34 RBI), and a brilliant year from Jason Hammel (2.76 ERA, 0.89 WHIP), and run by old Tiger nemesis Joe Maddon, the Cubs look poised to make a run at at least a Wild Card spot this season.
Draft note: in the 5th round, the Tigers take Cam Gibson (MSU), son of Kirk.
Tonight's More or Lester Lineup:
Rajai Davis, CF
Ian Kinsler, 2B
Miguel Cabrera, 1B
Yoenis Cespedes, LF
JD Martinez, RF
Nick Castellanos, DH
James McCann, C
Josh Wilson, 3B
Jose Iglesias, SS
Josh Wilson cracks the lineup again with his 5-for-9 as a Tiger (Hernan Perez is still looking for his 4th hit of the year). Before you get too excited about Wilson tonight, I should mention he is 0-for-14 with 6 K's against Lester in his career.
Cabrera is the only Tiger who has a good record of hitting Lester, but boy does he hit him: 14-for-27 (.519).