Game 2015.3: Twins at Tigers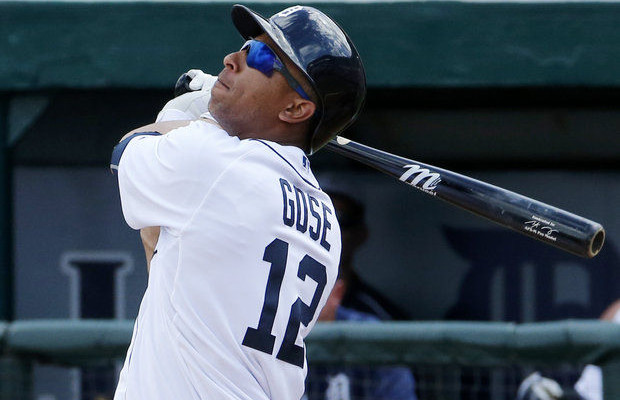 When the Tigers trotted off the chilly Comerica diamond with an easy 11-0 win to warm them, I doubt any of them realized they had done something no Tiger team had ever done, which is begin the season with two consecutive shutouts. In fact, the last time any American League team did the double-shutout start was when the 1977 Angels did so, behind Nolan Ryan and good old Frank Tanana (in the NL, the Nationals pulled it off last year).  The Tigers have the chance to become only the 2nd team ever (1963 Cardinals) to start off the season blankety-blankety-blank.
It would be hard to pick a player of the game for yesterday: Gose came through as predicted (how about that?), with a single, double, and triple, one to each field; Alex Avila reached base every time he was up, and scored 4 runs; Iglesias was 4-for-4, raising his average to .857; and Kinsler brought home the bottom-of-the-order boys with 4 RBI. Oh, and Sanchez with that shutout thing, topped off by an efficient Nesbitt/Krol/Alburquerque/Soria bullpen outing.
Today's player of the game is likely to be Weather Permitting, who is probably getting plenty of encouragement to be Permitting.
It's not all good news in Tigerland. No sooner did Justin Verlander join Bruce Rondon in the pitchers' DL club, than Joe Nathan crashed the club with an "elbow flexor strain," after pitching to all of one batter in the opener. Hmm. Is that the same as that "dead arm" thing with which he kicked off last season? Soria will work as the closer in the meantime, which may explain the seemingly odd move by Brad Ausmus to bring Soria in for one hitter yesterday with an 11-run lead.
Today's Undefeated Lineup:
Anthony Gose, CF
Ian Kinsler, 2B
Miguel Cabrera, 1B
Victor Martinez, DH
JD Martinez, RF
Yoenis Cespedes, LF
Nick Castellanos, 3B
Alex Avila, C
Jose Iglesias, SS
Pitching: Shane Greene vs. Kyle Gibson
Since the Gose as Player of the Game thing worked out yesterday, I'll go with Shane Greene today, as he leads the Tigers to their 3rd consecutive shutout in his Detroit debut. If not Greene, then Kinsler, who looks to follow up his big game yesterday against a pitcher who he is 6-for-14 against lifetime.