Game 2015.2: Twins at Tigers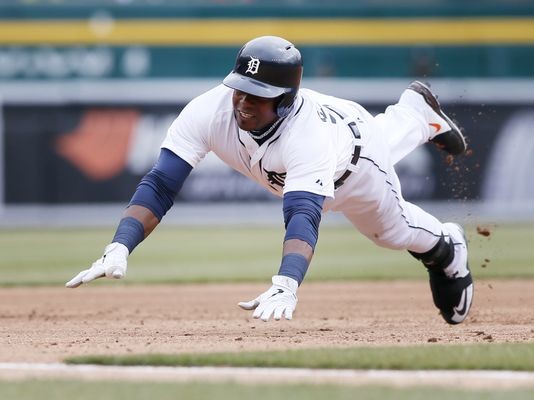 I should have known when I went with Miguel Cabrera as the "obvious" prediction for the Player of the Game that he'd put up an O-fer, since there is nothing obvious in baseball. It turns out that the Tigers got all the offense they needed from J.D. Martinez, Yoenis Cespedes, and Alex Avila (!), along with a masterful starting performance by David Price, and some sparkling defense to top it all off.
The Tigers continue their quest for the perfect 162-0 season this afternoon, as they hand the ball to Anibal. Sanchez will face Ricky Nolasco, if the chilly rain in the environs permits. Hopefully Sanchez has been briefed on the Tiger Bullpen Improvement Plan, which is to keep the starters on the mound and the relievers in the bullpen where they belong.
Today will also see the Tiger debut of Anthony Gose, who gets the leadoff spot this afternoon.
In other news, Justin Verlander has finally ended up on the DL after all, backdated to March 29. Kyle Lobstein has been called up to take his spot, and he will start Sunday's game.
Today's Undefeated Tiger Lineup:
Anthony Gose, CF
Ian Kinsler, 2B
Miguel Cabrera, 1B
Victor Martinez, DH
JD Martinez, RF
Yoenis Cespedes, LF
Nick Castellanos, 3B
Alex Avila, C
Jose Iglesias, SS
Pitching: Anibal Sanchez vs. Ricky Nolasco
Player of the Game pick: Anthony Gose, who will try to make his mark in his Tiger debut, and show that he's got some leather in the outfield also.