Game 2015.14: Yankees at Tigers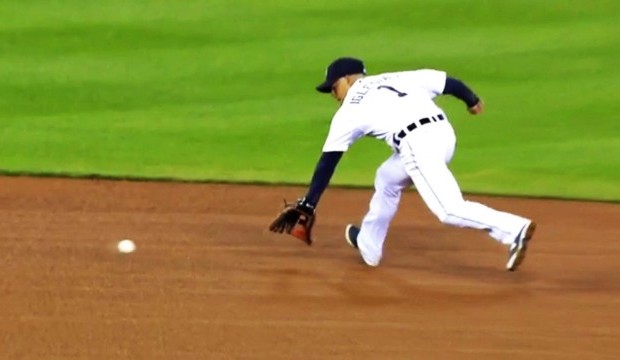 Well I hope you all got to watch last night's game, which more than lived up to its Monday Night Baseball billing, and all in a brisk 2:20.
With great pitching and great defense on both sides, the game came down to a couple of plays, although Tom Gage found 10 pivotal points in the game.
Alfredo Simon again had a good start, but C.C. Sabathia might have been even better, picking at the boundaries of a generous strike zone, and backed by stellar outfield play and highlight catches by Gardner and Ellsbury, though they were outdone by the great play by Jose Iglesias, which even had Omar Vizquel shaking his head in wonder.
For me the pivotal point in the game wasn't until the 8th inning. The Tigers had just taken a 2-1 lead, and the Yankees looked like they were going to take cover that run in the top of the 8th, when Didi Gregorius singled with Stephen Drew on 2nd. Rajai Davis, however, was playing an unusually shallow center, and Headley was held at 3rd, even though Davis turned out to bobble the ball. This left runners on 1st and 3rd, and ex-Yankee Joba Chamberlain promptly got a double play ball from Ellsbury, and that was that.
Well, one good win deserves another. Tonight Kyle Lobstein will don the eyeglasses as he takes on righty Nathan Eovaldi (in fact the Tigers won't face another lefty all week).
Tonight's Undefeated at Night Lineup:
Anthony Gose, CF
Ian Kinsler, 2B
Miguel Cabrera, 1B
Victor Martinez, DH
JD Martinez, RF
Yoenis Cespedes, LF
Nick Castellanos, 3B
Alex Avila, C
Jose Iglesias, SS