Game 2014.142: Giants at Tigers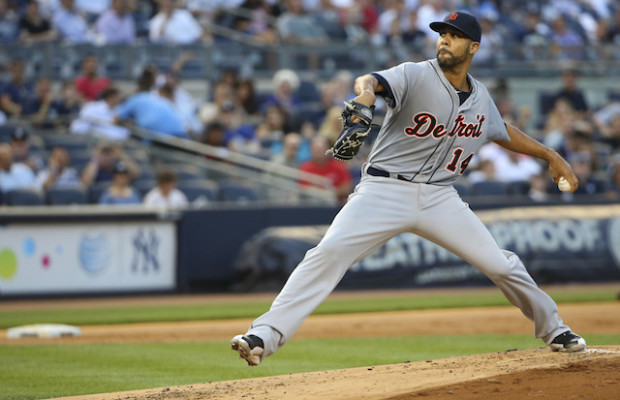 Not a whole lot to say about last night's game. Porcello threw BP for a few innings, as he's done a few times recently (anyone else starting to worry?), and then the rain came. The break somehow strengthened Jake Peavy, as he looked good after the long delay, giving up only 2 unearned runs in 6 innings. Good for his 5th win of the season against 13 losses. You heard me 5-13. On a team that has the same record at Detroit.
All the while James Shields and Wade Davis pitched the Royals to a 1-0 win, and a 2 game central division lead.
Look, it's just one game. The Tigers aren't going to win every game from here on out. But they do need to win close to 2/3 of them, so while today isn't a must win, it's a really need to win.
Bumgarner v. Price in what MLB is coining an #aceoff. Baseball Reference game preview here.
In case you're wondering, Price is 2-2 with a 3.86 ERA and 1.16 WHIP with Detroit, which is slightly worse than his #s with Tampa. However, his FIP (which removes park factors and defense by purely focusing on the pitcher's effectiveness at things he can more directly control – HR, BB, SO, BB, HBP) with Detroit is 2.62 versus 2.93 with Tampa, so he's actually been better with the Tigers than he was with Tampa.
#DoItForTheRotation
1. Ian Kinsler, 2B
2. Torii Hunter, RF
3. Miguel Cabrera, 1B (WHY???????????????????)
4. Victor Martinez, DH
5. J.D. Martinez, LF
6. Nick Castellanos, 3B
7. Eugenio Suarez, SS
8. James McCann, C (1st ML start – this C job is likely open for auditions for 2015)
9. Rajai Davis, CF