Game 2014.139: Tigers at Indians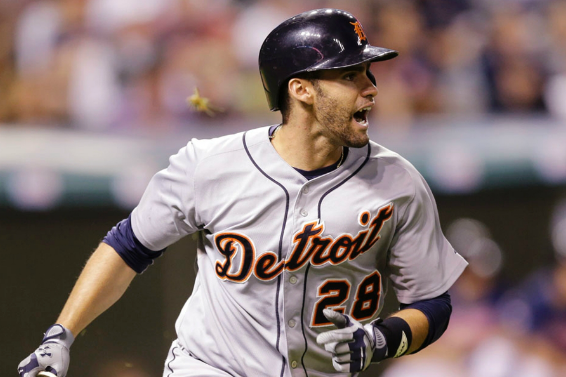 Got to go with JD Martinez for the post picture today. The Verlander picture search was turning up some odd stuff, plus Martinez is the man of the hour right now. His rocket into the centerfield forest not only won the game, but it completely turned around what was looking like a real candidate for "this is when the season was lost," a game with more consecutive failed Runner at 3rd with Less Than Two Out situations than any this season.
JD is an interesting character. He started out like gangbusters, went a bit cold, and then, just when everyone started muttering "Chris Shelton" and "Brennan Bosch," started coming back at just the right time.
Martinez does swing at everything: during the Monday telecast they pointed out that his 56% swing at rate is the highest in MLB. And as frustrating as it is to watch him flailing at the outside sliders and chin high fastballs, he obviously hits a lot of them. This hasn't always been the case: his Strikes Looking percentage has plummeted to 16.8% this season, after averaging about 25% in Houston. The aggressive approach has served him well.
And here's another thing to like: after the game, Martinez had this to say. "I've never been on a team that had a chance to go to the playoffs (in pro ball), and I'm more excited about that than anything. I want to make the playoffs so bad." How can you not like hearing that?
Just for fun, here is the rundown on blown opportunities:
2nd inning. Bases loaded, 0 out: Suarez struck out swinging. Davis struck out swinging. Kinsler grounded out to 3rd.
4th inning. Runners on 2nd and 3rd, 1 out: Kinsler struck out swinging, Hunter struck out swinging.
5th inning . Runners on 1st and 4rd, 0 out: J Martinez struck out looking, Castellanos struck out looking, Avila struck out looking.
6th inning. Runners on 1st and 3rd, 1 out: Hunter ground into double play.
That's 5 strikeouts with a runner on 3rd, less than 2 out, and 1 double play. I don't think it's hyperbole to say that this game could have easily ended up as the blown opportunity of the season.
To put that in perspective, as of the end of the 8th they had managed 1 run on 14 hits, which, if it had held, would have been the 14th time a team had only scored 1 run with that many hits since the invention of baseball statistics.
Special tip of the cap to The Lobster, who for the 2nd time pitched well enough to win, but got his W vampired by Phil Coke.
Tonight Justin Verlander takes the mound, and hopefully will bear down and show his stuff.
Alex Avila is out with a concussion, or concussion-like symptoms, or something (no official word). No need for DL with a 3rd catcher on staff.
Today's One-More-Takes-The-Series Lineup:
Kinsler, 2B
Hunter, RF
Cabrera, DH
V Martinez, 1B
J Martinez, LF
Castellanos, 3B
Suarez, SS
Holaday, C
Davis, CF