Game 2014.109: Tigers at Yankees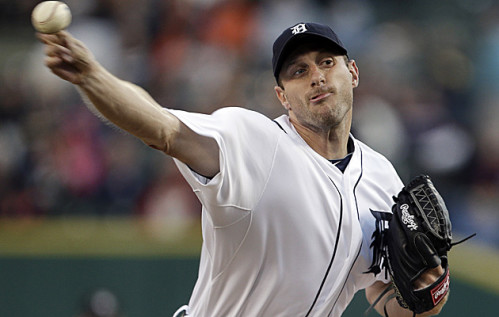 On April 29, Justin Verlander pitched 7 innings of 3 run ball, and started a run of 7 quality starts in 8 games, during an 8 game Tiger winning streak. "Quality Start" is not descriptive enough, as the Tigers' staff allowed 3 runs or less in 6 of those 8 games.
On May 12, Porcello turned in a 6 inning, 5 hit, 1 ER performance which launched a 6 game winning streak which saw the staff allow a total of 10 ER, and 5 of those were in a single Verlander victory over Baltimore. Five of the 6 starts were quality.
Here are the starting pitching lines over the last three games:
8 IP, 8 H 2 ER, 0 BB, 5 K
8 IP, 5 H, 2 ER, 2 BB, 10 K
7 IP, 2 H, 0 ER, 0 BB, 12 K
That's a .74 WHIP and 13.5/1 K/BB. Yes, it was Colorado without three of their top offensive players, but you still gotta make the pitches. I'm pumped to see what Max brings tonight knowing that Price debuts tomorrow.
(Interesting to note that the Tigers have also had two winning streaks of 5 or more when they did not get too many quality starts)
*********
Tigers in New York to take on Jeter and the Yankees. If you haven't yet seen the Nike Derek Jeter tribute video, you're missing out. Some kid is starting in centerfield for the Tigers.
1. Ian Kinsler, 2B
2. Ezequiel Carrera, CF
3. Miguel Cabrera, 1B
4. Victor Martinez, DH
5. Torii Hunter, RF
6. J.D. Martinez, LF
7. Don Kelly, 3B
8. Alex Avila, C
9. Eugenio Suarez, SS