Game 2104.101: Tigers at Angels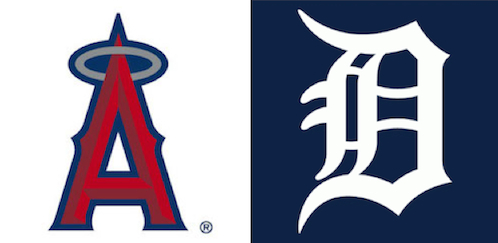 Tonight's game is the kind that you imagine used to make Justin Verlander salivate with anticipation. Road game against a potential playoff foe, opposed by a hittable rookie out of Eastern Michigan.
Unfortunately, the way things have gone this year, I think we're all hoping JV is concentrating on his arm angle, or release point, or landing point, or some other what we thought was a habit, so that he can get through the first unscathed.
Matt Shoemaker started the year in the pen, but has had great success as a starter for the Angels, posting a 6-2 record. His ERA as  starter is 4.37, but it looks like that is a result of some bad luck, as his FIP is 3.82 (for the year) and his WHIP is 1.30. He strikes out 9.3/9 and has a 4.80 K/W ratio this year. He gives up a lot of hits, doesn't walk many, and likely won't pitch deep into the game.
Baseball-Reference Game Preview.
*********
Quick shout out to Austin Jackson. Lost in the time difference on Friday night was an outstanding play to rob Kole Calhoun of extra bases. Moreover, since Jackson was inserted into the leadoff spot for good, he is hitting .348 with a .935 OPS and a 5.05 RE24.
In other news – the Hall of Fame changed the player eligibility timeline from 15 to 10 yeas, which shortens the lifespan of the Bonds, Clemens, Sosa and McGwire ballots. Alan Trammell will get two more shots at it before turning over his fate to the Veterans committee.
*********
LAA lineup note – Josh Hamilton out tonight with a sore knee.
1. Austin Jackson, CF
2. Ian Kinsler, 2B
3. Miguel Cabrera, 1B
4. Victor Martinez, DH
5. J.D. Martinez, LF
6. Torii Hunter, RF
7. Nick Castellanos, 3B
8. Alex Avila, C
9. Eugenio Suarez, SS