Game 2014.88: Tigers 16, Royals 4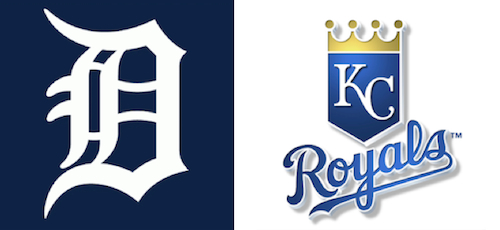 Standings Update
Det     50-37     —
KC      47-43     4.5
Cle     44-46     7.5
CWS   44-48     8.5
Min    41-49     10.5
AL Standings
Oak     57-34     —
Det     50-37     5
Bal     49-41      7.5 (yes, Baltimore. Is anyone paying attention to this?)
The Tigers are off to Kansas City for the final 4 before the All Star break. BRef preview here.
Remember last time we played and KC and they left Detroit in first place? Royals Review fondly reminisces to prelude a wonderful weekend preview. Highlights: The Tigers are 13-5 since then while the Royals have gone 8-10. Alex Gordon is out for the weekend, and Jason Vargas is going to have to miss a start which means that we get Bruce Chen! Chen has a 50% chance of throwing a CGSO and a 50% chance of getting pulled by the 2nd inning.
If I recall correctly, the high water mark this year was 17 over. A sweep gets us there. A sweep the wrong way puts us at 9 over at the AS game, but still up .5 games. I expect 2-2 on our way to a 93 win season finishing 6 games ahead of every other team in the Central. (update – it was 15 over on May 18)
Did you vote for #PickRick for the Final Vote (aka "one more sponsorship haul" around MLB headquarters). I did, and it was remarkably easy to do so. Kudos to MLB. I even felt good about myself for a minute. Then one of my kids started screaming b/c the spoon I gave her wasn't the "right one." But my vote, and all the rest for Porcello, weren't enough as Chris Sale won the Final Vote. There is still a chance that Ricky gets added due to injury, which would be a nice reward for a heck of a first half. Ausmus said today that no decision has been made yet regarding VMart's participation.
Here's your daily fun with JD: J.D. Martinez has started in 21 straight games. Over those 21 games, Martinez is hitting .393 (33-for-84) with eight homers, 18 RBIs and a modest 1.255 OPS. For the season, he's hitting .329 with 12 home runs and 38 RBIs — and a team-best .642 slugging percentage — in just 173 at-bats since getting called up from Toledo in late April. It's a very small sample size, and this happens all the time around MLB. Enjoy it while it lasts. I'll be thrilled if he can settle into a Chet Lemon like .270/20 HR/80 RBI guy year after year. Read the whole write-up on JD at DetroitNews.com today.
**********
Injury updates for the weekend contestants:
 Tigers outfielder Andy Dirks continued his injury-rehab assignment with Class A Lakeland on Wednesday night, going 1-for-2 and playing leftfield. In two games with Lakeland, Dirks is hitting .400 with two runs scored. He has been sidelined since March 29 because of lower back surgery. … Kansas City Royals left-hander Jason Vargas was taken to the hospital Wednesday and had an appendectomy. There was no timetable given for how long Vargas will be out. Bruce Chen could replace Vargas for Sunday's game against the Tigers. Royals All-Star outfielder Alex Gordon was scratched from Wednesday's lineup due to a sprained right wrist. He will have an MRI and see a hand specialist today.
Cabrera is back, Kelly for Davis in right, and VMart is still not in the lineup…though I couldn't find any news other than day to day.
1. Jackson, CF
2. Kinsler, 2B
3. Cabrera, 1B
4. Martinez (JD), LF
5. Hunter, DH
6. Castellanos, 3B
7. Avila, C
8. Suarez, SS
9. Kelly, RF