Game 2014.84: Rays 7, Tigers 2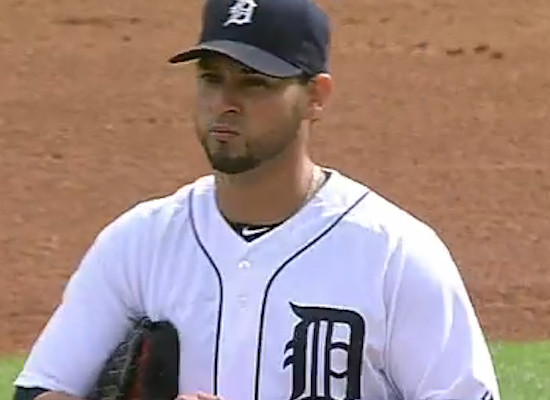 Chris Archer vs. Anibal Sanchez today.
Detroit Tigers on BBREF or MLB
Tampa Bay Rays on BBREF or MLB
TODAY'S LINEUPS:  Sorry, Ray. This is a Tigers blog. Victor is out, yup and (long-term) uh-oh. The Lettuce is in and AJax is back at leadoff, cue fan outrage. But Davis is in LF today and may distract us, positively speaking.

NOTABLE (PREGAME): Last night can be summed up in the phrase "not good enough." Not terrible, except for Mr. Gilded Mexican Headwear at the plate, but not good enough. Smyly, apparently, either has it or doesn't, no gutting it out or battling back for him. He didn't have it, and was in one batter too long when Sean Rodriguez put the nail in the coffin. Not good enough. Alex Cobb bested the Tigers for 5, and when the base-loaded, no outs situation came to be, getting one run out of it was clearly not good enough. Lost in the shuffle was great defense from Kinsler to get one out on a run-scoring play and some nice defense at 3B by Kelly in the 9th… As we contemplate the deals Detroit (or the Olde English DD) might make before the trade deadline, one thing to remember is that any meaningful suggestion starts with giving up someone you'd rather not. Cabrera, Victor, Kinsler, Verlander, and Sanchez are all off the table, of course. Scherzer might not be off the table, but when you consider where the Tigers are (1st place) and a big reason why (Scherzer), well then, I guess Scherzer is off the table. What do the Tigers need so badly that they would give up the young talent of Porcello, Smyly, Castellanos, or Suarez to get? Or current hot ticket J.D.? (Nothing.) What's left of the good to pretty good, and what of that is – more or less – surplus? Hunter? Davis? Surely not Alburquerque or Chamberlain? What's to gain, what's the need? Bullpen, you say. Well, they can probably get Joaquin Benoit at a reasonable price in trade, but is even that really worth it? Does Benoit put this team over the top? So why'd they let him go? Counting on Rondon? Anyway, some of us would love to unload Jackson or Avila, but the return would not be flashy or likely to solve anything immediately. Unlike last season, Detroit doesn't have to make any deals at all. No Garcia situation, no Peralta situation. But Mr. Dombrowski may have something shrewd and more subtle up his sleeve just the same, planning for September/October even now… I guess it's safe to say that J.D. Martinez is for real… Unfortunately, the recent aches and pains of the other Martinez are also for real. Victor (back soreness, right side) might be "back" for the Dodgers. Or he might not. Chronic isn't what we want to hear, but it's the word I'm starting to see in my crystal ball. Uh-oh.
POSTGAME Look away, it's hideous.