Game 2014.81: Tigers 9, Athletics 3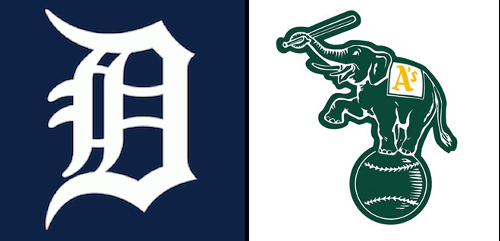 So much to talk about.
We could start with Rick Porcello, who finds himself in serious All-Star starter contention after posting his second consecutive complete game shutout.  His four hit gem yesterday saw first pitch strikes to 24 of 31 batters, and extended his scoreless streak to 25 innings. Porcello had 0 Ks and 0 walks last night, the first time that has happened in a CG shutout in 25 years.
His success is coming despite a K rate of 5.2 /9. His success can be attributed to a number of things, but defense has got to be a big part of it. Porcello is inducing groundballs like pro-am day at the driving range. More agile, and well placed, fielders are making a huge difference.
And how about JD Martinez? In June he slugged at a .702 clip and posted a 1.069 OPS, and he's on pace for a 2.000 OPS for July!
Continuing, starting pitching has returned to form as of late, and if JV wins today, he'll be at .500 for the season. I still don't get how the 1st inning run in his last start out was earned. WP gets Altuve the 3rd, wild throw, an error on Avila, gets the run home. Are pitchers at fault b/c of the wild pitch?
Anyway, a chance to sweep the AL leading and monster hitting A's doesn't come about every day. It would be a great way to hammer the final nail in the 10-20 coffin (though I think that thing is pretty well sealed).
1. Jackson, CF
2. Kinsler, 2B
3. Cabrera, 1B
4. Martinez, DH
5. Hunter, DH
6. Castellanos, 3B
7. Avila, C
8. Romine, SS
9. Davis, LF