Game 2014.73: Tigers 8, Rangers 2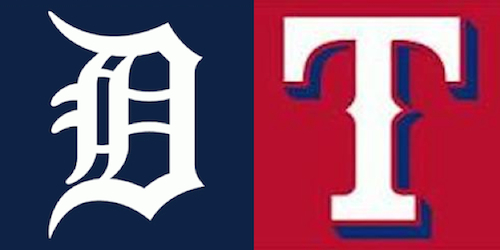 Coming off of a road sweep of a division rival (nice), a revenge sweep (nicer), and a weekend sweep followed by a day off (nicest of all) (sorry, that was only one sweep total, but check back in a week), Detroit (40-32, 1st Central, 2nd AL) is in Tejas for a three-game series with the Rangers (35-40, 4th West, 11th AL). All night games. There is a chance for some revenge here as well: Last time out against Texas, the Tigers should have been arrested for pitching while blind. What a demoralizing home series that was, surely one of the two lowest points of the season to date (lucky me, I drew both).
Here are your handy quick reference guides for the upcoming series:
Tigers on BBREF
Tigers on MLB
Rangers on BBREF
Rangers on MLB
The all-important RE24/WPA rundown
Fascinating team comparison
What have you done for me/them lately?
Detroit hasn't won a season series with Texas since 2011. They later lost the series that mattered that postseason, and have gone 7-14 vs. the Rangers since. The Tigers are clearly the better team these days. So what's it gonna be?
Fun fact: Since 2006, the Tigers have losing records against only 5 of 29 opponents.
Even as things were going downhill for the Tigers there for one tough month, I found it hard to jump on the pessimist bandwagon wholeheartedly. It's not that I was going out of my way to look on the bright side, but only that I wasn't seeing lack of effort, poor managing, the need for an overhaul, or the end of anyone's careers. The only extraordinary thing about 9-20 was the number of pitching collapses (I count 11). 8 games where the starter put the team in a very deep hole! (Check my facts. I still find 8 hard to believe, but I'm tired of looking.) You might say that the team record was 9-12 without those 8 forfeits. Underachieving, yes. Catastrophe by W-L, certainly. Crisis of confidence? Only to a fan. Do you really want the team to dwell on the losses and hang their heads, be "ashamed"? Of course not. Brush it off, look ahead. They do it. We can do it, too.
Tough month in the rear view mirror, up ladders and down chutes, Detroit finds themselves exactly where they were about a year ago. 40-32, with a refreshingly different team overall. Smokey Jr.? Come on, people.
Now, even aside from the 4-game win streak, good news abounds. Evan Reed is DFA, and Ian Krol is resting his crappy pitching. Blaine Hardy's left arm has started off on the right foot, and Phil Coke had an outing that didn't need to be qualified in any way. We're going to get looks at McCoy and Smith as we did with Knebel – interesting for a fan, no? (The next best thing to having a good bullpen is making an effort to get one together.) The hitting is starting to click on enough cylinders, I think.
The Avila Thing: Is the general feeling that Holaday could actually replace Avila as the starting catcher? I'm afraid the overall gain could be slighter than you think. More Holaday, sure, I'm down with that.
The Outfield Thing: Is J.D. MarTinez the latest incarnation of Marcus Thames and Matt Tuiasosopo?
No one's replacing Torii Hunter in RF, but could more frequent rest be a perfect fit for a more flexible plan?
Aside from effort, there's not a whole bunch of anything coming from Austin Jackson. Would they trade him? There are other options in CF.
Rajai Davis in CF more often? In the choice between a lineup featuring either Jackson-J.D., Jackson-Davis, or J.D.-Rajai, is it still mix and match or more one or the other? There seems to be a bit more to like in one of them, doesn't there?
What's on the Andy Dirks horizon, and might that not crowd things in a good way? Odd man out? Jackson. Kelly, Dirks himself?
Anyway… Drew Smyly vs. Colby Lewis in the first game. Smyly has been superb lately. Things are lookin' good for a good ballgame. Lineups to follow… I think.
Tonight's Rootin' Tootin' Lineup:
LF Rajai "Heartbreaker" Davis
2B Ian "Pan Am Highway Blues" Kinsler
1B Miguel "Ten Dollar Man" Cabrera
DH Victor "El Diablo" Martinez
RF J.D. "Enjoy And Get It On" Martinez
3B Nick "Avalon Hideway" Castellanos
CF Austin "Asleep In The Desert" Jackson
C Alex "It's Only Glove" Avila
SS Eugenio "Snappy Kakkie" Suarez
P Drew "There Ain't No Cause For Alarm" Smyly