Game 2014.65: Twins at Tigers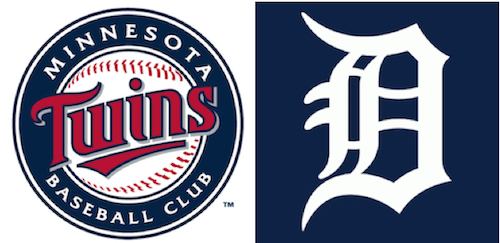 Happy Father's Day Friends! I'm going to spend my day relaxing outside, reading, and cursing the Tigers.
This Tigers tailspin has been going on for nearly a month now. Miraculously, the Tigers have remained in first place during this 8-17 run, but the Royals are hot on our trail, only 1 1/2 games out after their sixth consecutive win yesterday. In fact, the entire division is in the hunt. The Tigers had a larger lead on the division a month ago (7 games) than they do on last place right now (4.5 games).
Like any fanatic, I work hard to make sure that I'm correctly placing my blame, as it somehow makes me feel a little better to be mad at the right people. So, using the incredible tools available at Baseball-Reference.com, I pulled some very basic team and player stats. You can click on the hyperlinked words below for more info.
Games 1-39: 27 wins, 12 losses.
Batting: .278 BA, .757 OPS, 4.8 runs per game
Pitching: Team ERA 3.13
Games 40-64: 8 wins, 17 losses.
Batting: .266 BA, .764 OPS, 4.0 runs per game
Pitching: Team ERA 5.39.
Hitting has been pretty consistent. We're scoring a little less, which is probably due to some mixture of luck and situational hitting. The Tigers have slipped to middle of the pack with runners in scoring position. But I expect that number to come back up, and the runs per game to climb back towards 5.
Fielding is much harder to split-out like this, but I've heard Dan Dickerson say over and over what we've gone from top of the AL to bottom four over the past month, so that's a part of the problem. I think we all see that on a daily basis.
But the pitching has been horrendous, and really, nearly the entire pitching staff is to blame. Take a look at this.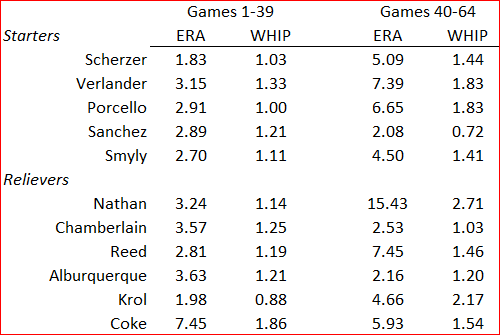 Of the regular guys on the staff, 8 of them have been awful over the past month. Maybe we can exclude Smyly from that label, but everyone else save Sanchez, Chamberlain, and Alburquerque should have to come and mow our lawns for what they've put us through. The Tigers pitching staff has been handing out hits and walks like they're flyers on the Vegas Strip. Not surprisingly, the team ERA for June is worst in the AL, and the team WHIP is second worst.
I expect Scherzer and Verlander to be much better. We've already seen it from Scherzer. But Nathan, Reed, Krol, and Coke are legitimate issues, and I fear that no lead will be safe until a couple of moves are made. Hanrahan still isn't pitching live BP, and Toledo isn't much help. Dombrowski – work your magic.
Tigers have a shot at a rare series victory today, which is sorely needed for a dozen or so reasons.
1. Kinsler, 2B
2. Hunter, RF
3. Cabrera, 1B
4. Martinez, DH
5. Martinez, LF
6. Jackson, CF
7. Castellanos, 3B
8. Avila, C
9. Suarez, SS