Game 2014.57: Tigers 6, Red Sox 2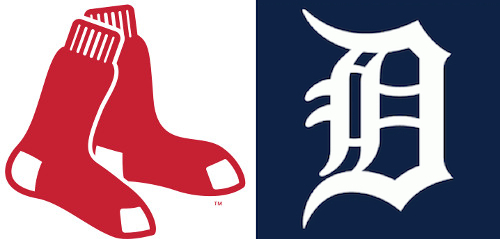 As my turn comes back around in the rotation I look back and see there has been all of one Tiger victory since I have last manned the DTW keyboard. In fact the Tigers haven't won a series since the last time they played Boston, May 16-18, which seems so long ago now, before the Zubaz gear, before this awful 4-13 stretch. Maybe Boston will snap them out of it and remind them that they used to win baseball games.
Below are the days/times (in EST) and projected starters for the Boston Series:
Boston at Detroit
Friday     June 6 – 7:05   Drew Smyly vs Rubby De La Rosa
Saturday June 7 – 7:15   Max Scherzer vs Jon Lester (L)
Sunday   June 8 – 8:00   Anibal Sanchez vs John Lackey
As so often happens when Boston is involved, two of the games will be nationally televised: Saturday on Fox, and Sunday on ESPN, thus the different start times.
Last time the Tigers faced the Red Sox, they were a team on a roll. Sure, they had some bullpen troubles and were struggling to put a major league shortstop on the field, but that was more than made up for by great starting pitching (best in the league), and a lineup that was at the top of the league in hitting, and was also able to manufacture runs with base running and situational hitting.
Suddenly the pitching and hitting have simultaneously gone south: the bats are in the vicinity of Biloxi, MS: they have scored a league lowest 34 runs over the last 14 days, putting up an anemic BA of .233 (.649 OPS). The pitching is in Boca Raton, ranking 15th (because that's as low as it goes) in OPS against (.836), and this time it's the starters, with the exception of Anibal Sanchez, who has only given up one run in his last two starts.
What is to be done? Beats me. It can't hurt to bring up Suarez and try him at short…except it did, his knee, on an awkward slide into second (there's something for you to work on Mr. Vizquel). He is day-to-day. Is today the day? (Nope).
If the Tigers are going to get well today against the Sox, they are going to have to do it against the dreaded Young Unknown pitcher, Rubby "Cy" De La Rosa.
Best wishes from DTW to Red Sox hitting coach Greg Colbrunn, who has been hospitalized with a brain hemorrhage.
Today's Avila's Batting Where? Lineup:
Kinsler 2B
Hunter RF
Cabrera 1B
Martinez DH
Avila C
Jackson CF
Castellanos 3B
Romine SS
Davis LF