Game 2014.66: Royals at Tigers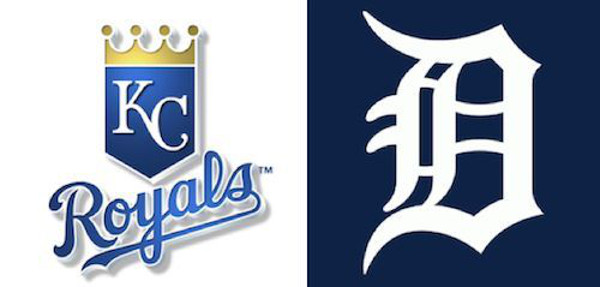 Well, the Tigers won a game and a series (at home even! which brings their home record to a disappointing 18-16). So that was a good win, but not quite in the sense of a game well played. Porcello did pitch well for more than 5 innings, but then hit that 90 pitch roadblock that Vince has mentioned. The hitting, though–especially with men in scoring position–left something to be desired, with Austin Jackson prevailing as the STBD King. Jackson now has these bizarre splits:
.109 BA .344 OPS – RISP (61 PA)
.217 BA .649 OPS – Men On (113 PA)
.277 BA .736 OPS – Bases empty (140 PA)
What do you do with that?
Anyway, the Tigers did manage to pull off the walk off, thanks to the second dropped fly ball by Arcia (both scored as hits), and a throw from shallow center that kicked off the side of the pitcher's mound (and you thought our outfield was bad).
Sometimes you win games you shouldn't; in fact, over the course of a season winning teams need to have a bunch of these.
It won't be so easy this week, with the hottest team in Major League Baseball coming to town, yes, the 7-wins-in-a-row, 1 1/2 games out of 1st, Kansas City Royals. KC leads with lefty Jason Vargas, who has been hit hard by Ian Kinsler in two previous outings this season (4-for-6, HR). The Tigers counter with Justin Verlander, who has struggled, but is, uh, working on it: "I mean it is troublesome, yeah, but just need to continue to work on what I've been working on," he said. See, nothing to worry about.
Royals vs Tigers
Mon 4/16 7:08  Justin Verlander (6-6, .4.61) vs Jason Vargas (L) (6-2, 3.30)
Tue  4/17 7:08  Max Scherzer (8-2, 3.05) vs Yordano Ventura (4-5, 3.20)
Wed 4/18 1:08  Drew Smyly (3-5, 3.58) vs Jeremy Guthrie (3-6, 4.04)
Thu  4/19 1:08  Anibal Sanchez (3-2, 2.44) vs Danny Duffy (L) (4-5, 2.83)
Note the unusual back-to-back weekday day games. Thursdays game is a rescheduled game from an earlier rainout.
Today's Lineup:
Davis, CF
Kinsler, 2B
Cabrera, 1B
V Martinez, DH
Hunter, RF
Jackson, CF
Castellanos, 3B
Avila, C
Suarez, SS
Davis gets himself back in the lineup against the lefty…despite a career 3-for-15 against Vargas. Despite the lefty, Holaday gets a rest after his one grueling inning last night.