Game 2014: 28 Tigers 11, Astros 4
Thanks to a real gem by Max Scherzer and a couple of clutch hits by Rajai Davis and Victor Martinez, the Tigers are now on a 6-game winning streak, and have the best record in MLB. How about that?
What better time to debut new 22-yr old left-hander Robbie Ray, the main piece of the Doug Fister trade (Fister is scheduled to make his own season debut on Friday).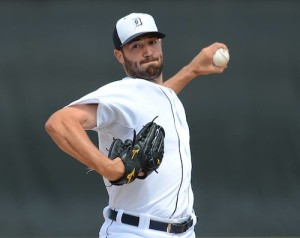 As we predicted yesterday, Jose Ortega was optioned to Toledo to make room for Ray, which was indeed the predictable move, no matter how much we want Phil Coke to disappear. In case you don't remember Ortega, he last pitched in the last Tiger loss, which was oh so long ago.
In case you missed yesterday's postgame, I pointed out that Victor Martinez is quietly putting together a team MVP type of season. Among his accomplishments: he has been the hardest player in baseball to strike out, with what is now 4 Ks in 113 plate appearances. What I didn't know was that the called 3rd strike he took last night was his first called 3rd strike since May 21 2013. Wow  (courtesy of tweet from Jason Beck).
Tonight's You Can Call Me Ray Tiger Lineup:
Kinsler, 2B
Hunter, RF
Cabrera, 1B
V. Martinez, DH
J.D. Martinez, LF
Jackson, CF
Castellanos, 3B
Avila, C
Worth, SS
J.D. gets the start against his former team.
Postgame
That makes 7 in a row, and the Tigers are still in single digits in the loss column. Despite the 9th inning foolery, the game was great for Detroit on both sides of the field. Robbie Ray pitched well and was composed. He only gave up 5 hits, 2 of them infield hits, and nothing hit really hard; an awful lot of routine outfield flies and, even better, only one walk. Nothing like a rookie who is not afraid of the strike zone. Yes, it was just the Houston Astros, but last time I checked they were a Major League Baseball team. Thumbs up Robbie The Railroad.
Miguel Cabrera also had his best game of the season, with the rare long ball (3), on 4 hits, 1 of which was an RBI single through the right-side hole created by the shift. I don't foresee an awful lot of shifting on Cabrera in the future.
Let's do this again tomorrow, shall we?