POST OF THE GAME: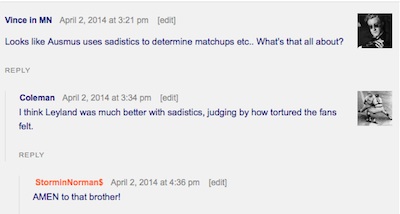 We'll probably never know if Vince did that on purpose.
1: Scherzer was lost and a bit flustered. Hard to believe only 4 batters in this long inning. Billy Butler really did us a favor.
1: Jason Vargas did a number on Cabrera for the called third.
2: Collins comes in hard and leaves his feet for the catch, and Max is fired back to form – we hope.
2: Jackson hits the ball hard for an out (there wouldn't be much of that against Vargas.)
3: Nice K on Nori Aoki for Max.
3: Avila drawing a walk is becoming a rally-starting pattern. Oh, not today. But the SB attempt by Avila wasn't bad, but good. It was close, friends.
4: Oh! Sweet to see an opponent do the inning-ending line drive to 1B lightning-quick double play (Butler scorched it right at Miggy.)
4: Kinsler looked like AJ on that home run swing. 1-0 with runs at a premium!
5: Salvador Perez struck himself out, but Max, really in command now, did the rest.
5: Tigers struck out in order. Did I mention that Avila will never hit above .220 again?
6: Fine play and well-bounced throw by Castellanos to get Omar Infante, Scherzer retires the side in order.
6: Gutsy challenge by Ausmus overturns the call! Rally. Miggy lets us down, Mike Moustakas makes smart choice and goes home for the out, rally fizzles to zip.
7: Max only getting stronger, pitch count in great shape.
7: Did I mention that Avila will never hit above .200 again?
8: Give Perez full credit for that double on a good pitch. This guy is dangerous. Now imagine trying to finish this inning with PR Jarrod Dyson behind you at 2B. Scherzer was just superb.
8: The bats sleep on, Kelvin Herrera makes Collins look like a rookie.
9: OK, Nathan is in, rest easy. Right? Wrong. Joe has the kind of 9th Scherzer had in the 1st, only worse. Yes, the Royals really had to scratch and scrape for their run, but the inexplicable balk right after? What up, Nathan? Darn good thing Brett Hayes was batting instead of the lifted C Perez, eh? 1-1.
9: You can't often say Cabrera had a crap day at the plate, but you can today. Wade Davis made a fool of him. I really didn't want extra innings. I watch late. I work in the morning.
10: Al-Al done good, again. Should Gonzalez have charged? I think Lorenzo Cain flat out beats it regardless. Cain gets to 2B despite Avila's first good throw of 2014, and it's getting nail-bitey again. Aoki tapper, beats it out, steps on Miggy's foot – WAIT! Brad's gonna challenge again!! OVERTURNED, INNING OVER! Damn good judgment by Ausmus and his support crew, game-changing good. I love replay!
10: Wow-whee! I thought Kinsler's hit was gonna leave the park, but the LF gap was far enough. Jackson scores, Tigers win.
Max Scherzer deserved the W and got most of it. Just-in-time hitting and smart challenges by Ausmus got the rest of it. Woo-hoo! Oh, and Ian Kinsler drove in all the runs. (And I love the way he throws.) How ya doin' there today, Prince (0 for 3 with 2 strikeouts) Fielder?