Postgame 1: Tigers 4, Royals 3
POST OF THE GAME: (You do need to step it up, though, guys and gals. Regular season now. Spring training is over.)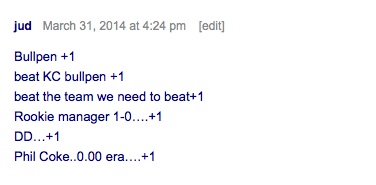 Started off with great Opening Day enthusiasm. 90 minutes later I was in a bad mood, and the Tigers hadn't even relinquished the lead yet. It wasn't the game. It was the inability to watch it. Don't know if it was the network, my ISP, or mlb.tv itself, but after 3+ innings of hiccups and start-overs, I settled on radio.
0-0: Verlander started off throwing strikes and getting hit in about equal measure. Nice early outs v. Billy Butler and Alciedes Escobar were about as good as it got for Justin… When the game is still tied at 0, you can overlook things like a misplayed attempt at a shoestring by Jackson, or a routine flyball dropped by Hunter. And forget them when Martinez homers to RF in his first AB of the season.
1-0: Not an easy 4th inning to watch (or watch by listening). Verlander really scuffled. (A scuffling 6 innings overall for JV.) Gonzalez raised the doubt level by bobbling the bases loaded and keeping the inning alive, but walking Omar Infante to drive in the 3rd KC run – that's on Verlander…. Salvador Perez was hitting everything all game.
1-3: There was a bit of good fortune going for James Shields, especially in the 4th inning, but for the game, he pretty much owned the Tigers. Tough luck for Detroit, with a near 2-run homer by V-Mart going just foul and a bad 3rd strike call on Jackson with Cabrera standing at 3B. Cabrera left standing on 3B as Avila swung through a breaking ball, well, that's not luck. Did I mention Perez was hitting everything?… So the game started to get that flat, we can't win this feel, despite a pretty close score. Watching for encouraging signs, or at least interesting ones, there was JV making a fine play to start a 1-6-3, Castellanos testing Alex Gordon's arm and paying the price (mixed feelings about that one, however dumb it may have looked), and Davis flashing that speed to make Eric Hosmer work for an out that would have been easy in 2013 (unless it was Iglesias). .. 7th inning rolls around. Reed has a slider? No one told me. Kinsler and Gonzalez make a couple great plays behind Evan. The tide may be turning. Tigers up, and Shields is starting to come down to earth. Jackson smashes a triple to the LF gap, Avila walks. Tigers favorite Aaron Crow comes on in relief (goody!). Castellanos strikes out, but oh no becomes oh yes when the afore-praised Mr. Perez lets strike three (swinging) get away, and Jackson scores. And then Alex Gonzalez – yes, that one – triples in the tying run! It's a game again.
3-3: Alburquerque and Nathan get the job done handily, and it's down to the bottom half. Jackson is again burned by a strike zone apparently reserved for him alone. Facing Wade Davis, Avila draws his second walk in a clutch situation (kudos). Collins comes in to pinch-run (kudos to Ausmus). Castellanos singles Collins to 3B – this is MAKING IT HAPPEN! And then, facing Greg Holland, who needs no introduction to Tigers fans, Alex Gonzalez does make it happen, singling in Collins to win it. Welcome to Detroit, Alex Gonzalez. To think that I doubted you. (And still do.)
A game won by a bullpen that was everything Verlander wasn't, and by late-inning offense (and some +1 managing by Ausmus) – how about it? A game taken back from an opposing starter who was largely dominant. Sweet, that too.