Game 2014.16: White Sox 3, Tigers 1
YOU SAID IT
Coleman April 21, 2014 at 8:41 pm [edit]
First of four against Chicago in Detroit, last of the homestand before Lazy April is over and the Tigers transition into a road-heavy month of May.
But he's a professional. Minus the quotes and below the Joba, this is the kind of postgame I aspire to. Well, maybe I like to cover a little more, but it's cool to read something that makes you go both "That's what I was thinking!" and "Why didn't that occur to me?"
SOME PERFORMANCE INDICATORS THROUGH APRIL 19: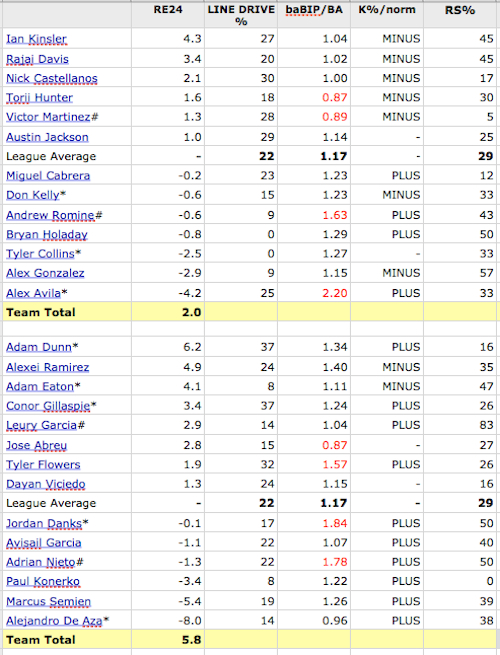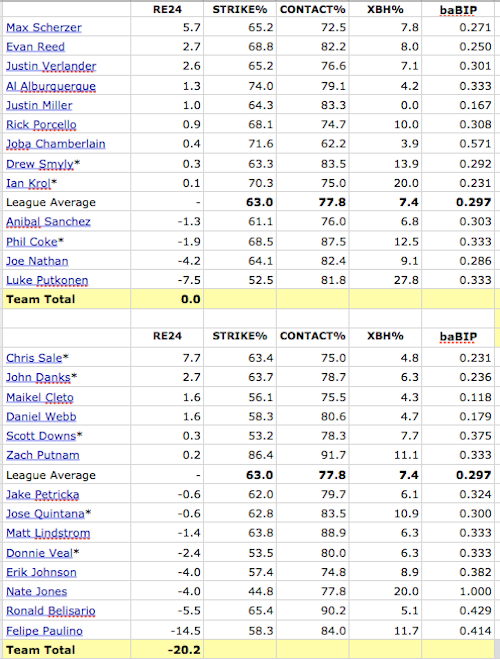 You might say that the White Sox are overmatched. Concede the loss to Chris Sale and take 3, right? But notice that Detroit hasn't been getting XBH and Chicago hasn't really been giving them up, as lousy as their staff appears. Sox pitchers have trouble throwing strikes, but don't forget that, just yesterday, the Tigers failed to drive in a single hitting run through 5.2 IP and 100+ pitches (119! 62 strikes!) off of a Hector Santiago-type fellow who could not throw a strike – except when he had to. Neither team has been any great shakes defensively, so maybe we can expect a number of games like the 2nd against the Indians. Watch out for a Chicago offense that just stomped the Texas Rangers 16-2.
No, I don't think this is going to be easy. My hopes for an early statement on who owns the AL Central rest on the shoulders of the Detroit Tigers pitching staff and team defense that could be – and should be – trending upward.
POSTGAME: Anibal Sanchez is the ace on a tightrope. He's more dazzling than Scherzer or Verlander on a merely good day, but when he slips, it's not a stumble, but a fall. The fall came in the 7th, when Ausmus should have pulled him tout suite after the Abreu double (wow, did Ausmus waste a challenge on that one), or at least after the faux strikeout of Dunn. Rajai Davis added insult to injury with a miserable throw to the plate from LF (valiant effort from Sanchez and Avila to second-chance it) that resulted in a backbreaker run, but I'm still looking straight at Anibal. The White Sox are no joke at the plate, and they showed up in the 7th.
Ian Kinsler has built up a considerable good will buffer, so I'm only pointing out fact when I say two of the three Tigers rallies died with him at the plate.  The more frustrating one might have been loading the bases, no outs, only to see the bottom of order (which includes Davis no matter where he bats) plate only one… on an out (Avila hits it hard but into the shift). Falling considerably short against mediocre pitching has become a trend.
Avila crushed a pitch – for an XBH. 0-4 Miguel Cabrera did not, but hey, he's pretty darn good at 1B. Reed good, Miller good, Krol, um, well, hard tellin.'