Game 2013. Playoffs 8: Red Sox at Tigers
ALCS: Detroit 1, Boston 1. ALCS Game 2: Boston 6, Detroit 5.
Painful. The loss Sunday night is one game I will not review in its entirety. During the regular season, there was at least one (Toronto 8, Detroit 6) and probably a couple other games I forget where a sizable lead vanished and left us with a kicked in the gut feeling. Those games pale by comparison. I will focus on the positive. Most of Game 2 was the story of a win in the making, a win that would have sent us into a stratosphere of dizzy optimism. Let's not deny that it was a very nice ride.
* Max Scherzer had a game for the ages. 7 IP, 2 H (5.2 of no-hit ball), 13 K, and 1 cheap run (unfortunately one that would prove costly, depending on how you look at it). Don't file this one under "no decision," but under "seven innings of dominating WIN where he positively baffled the best offense in the American League, in the playoffs, on their home turf." If there was any debate about the AL Cy Young, it's over.
* Miguel Cabrera hit a home run over the Green Monster, and crushed another pitch that would have been a home run anywhere else but dead center. His power stroke has returned at a most opportune time, not a moment too soon. If it's back to stay, there's no need to ask if it will make a difference.
* Jhonny Peralta hasn't missed a beat. Quite remarkable. There has to be some question, to my mind at least, that the Tigers might want to consider making room for Peralta in 2014. I don't think a "thanks for October, so long" (a la Delmon Young) is in order here. It's neat that the big generators in the postseason to date have been the two Comeback Kids, Victor and Jhonny.
* Alex Avila certainly has a knack for "running into one" – if that's what it is – at some of the bestest times. Evidently the receiver of choice for the best starting rotation in Tigers history, it would also seem that we can't write off that kind of power (his first pitch, two-run blast to RF was Ortiz-caliber stuff) even if he does spend the rest of his career around .225. Avila might end up being Brandon Inge Revisited; unquestionably strong at his position but leaving you guessing whether he's an underachieving average hitter or an overachieving total hack. I'm not even being negative here.
* For one shining inning we saw the Tigers offense at its best, striking quickly and devastatingly against a fading Buchholz. That's the offense Mike Illitch paid for, and the one we pay to see. They padded a slim lead and put the game in the bag for Max. Unfortunately, that bag was placed on a counter slick with bullp-  well, bull-something – and the bottom got all soggy.
From the Numbers Speak Louder Than Words Dept.:
ALDS
 ALCS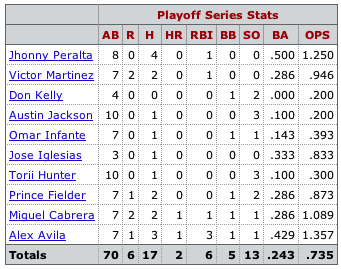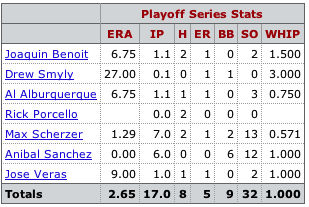 * A bunch o' links to pass the time until game time (you've already read 'em… read 'em again to qualify for valuable cash prizes). I should say "until game day"; with a 4:00 EST game time, Tuesday, there won't be time to pass for many of us. I'll be watching the game after the game, safely sequestered from spoilers by geography and… well, circumstance:
You don't say – how perceptive
Score one for "bizarre last paragraph"
Wow, such a heartwarming human interest story, or .222 of one
The old "what can you say?" (no hat-tipping, thank goodness) in Beck's "Anatomy of…"
Forgiveness and responsibility and other stuff
Stunning insights into JV – like no article you've ever read before
Justin Verlander had a great September and an outstanding, indispensable ALDS. How many times have the Tigers turned to him over the years to stop the skid, to right the ship, to win the game that had to be won? (Last time was only last Thursday. Sheesh. Leaning on the guy pretty hard.) This skid is only one game, but it was some steep game. Now they and we turn to Verlander again, to turn back the clock on two innings where the Red Sox became the Red Sox again instead of wind-up strikeout toys. (Yes, Boston hitters have been known to strike out some… but not at a rate of 2,592 a season.) Would it surprise you to see JV carry a no-hitter through 5 with the Tigers clinging to a 1-0 lead? It would not surprise me at all, which is not to say I wouldn't be absolutely freaking out with the same tortured mix of delight and dread that have characterized most of the first two games of the ALCS.
My plea to the Tigers hitters and the Tigers bullpen: Don't let this season of unparalleled starting pitching go down in flames. Don't. There's never been a better time for a number of stellar players to get what might be the only World Series Championship ring of their careers.
If the third game of a best-of-seven can ever be an "elimination game," this Game 3 in Detroit is it. Mark my words. No? Then I'll mark my own words: If the third game of a best-of-seven can ever be an "elimination game," this Game 3 in Detroit is it.
Rise to the occasion, Tigers!
And now, the entirely fictitious Series-Turning Lineup, POPGs highlighted:
LF Dirks
2B Infante
1B Fielder
3B Cabrera
DH Martinez
SS Peralta
RF Hunter
CF Jackson
C Avila
SP – Verlander
Setup Guy – Verlander
Closer – Verlander