Game 2013. Playoffs 2: Tigers at A's
This new season is off to a great start. For the "bad guys," 27 outs and 16 of them strikeouts. 2 runs, and you can practically write off one of them. 3 hits, 6 baserunners. This, for the good guys, against an Oakland team that has pretty much demolished everything in its path since they fired up the steamroller in their last meeting with the Tigers. Outstanding.
Let's compare notes on last night's game. Here are mine:
ALDS Game 1: Detroit 3, Oakland 2. Tigers score 3 in the first, highlighted by the rarely seen (from anyone) Rally Reignited, a two-out, bases-empty double from Victor Martinez followed by a "single" from Alex Avila that's booted by 1B Barton and 2B Sogard and scores Victor all the way from 2B for run #3 (see final score). Max Scherzer is good. Bartolo Colon is also good, as is SS Lowrie in making a play that nips Jose Iglesias. Andy Dirks misplays and then gets a bad bounce on the Cespedes triple, but Max doesn't let it bother him. Miguel Cabrera hits the ball very hard but is out, and Victor goes down swinging on back-to-back change-ups from Colon (a double rarity). Max walks Crisp on four pitches and wild pitches him to 2B, but it comes to naught. Andy swings on the first pitch and is roundly and probably justifiably criticized by the radio guys for wasting an at bat, while 3B Donaldson draws praise for foiling a Jose Iglesias bunt for a hit attempt. Max strikes out the side, the heart of the order; he's been dealing all along, and now it's starting to get ridiculous. Great bunt by Torii Hunter gets him aboard. He tries to catch the A's sleeping with a SB attempt between pitches. Doesn't work (some say he was safe), but no complaints. 1-2-3 and strikeouts #8 and #9 for Max in the 5th. Three straight hits, but the rally is deflated by sending Victor home from 2B on Omar Infante's single to RF-with-arm Reddick. Outcome and criticism equally predictable and equally just. Max walks Crisp again but otherwise has a great "don't let the tide turn" inning. Colon out, Otero in, and the Tigers 9-1-2 go down meekly. Jose Iglesias makes a highlight play without the highlight throw, and Moss is at 1B. This shouldn't count for much, but it does when Cespedes makes Max's 2-2 fastball go far away quickly and convincingly. Max comes back strong to keep it a 3-2 game and finish with 7 superb innings peppered with 11 K. LF Cespedes loses Victor's drive for a two-base error, but Alex strikes out to end the insurance run threat. Nonetheless, this Martinez-Avila thing is becoming quite the rally combo. Miguel out, Ramon Santiago in at 3B. Drew Smyly pitches well around yet another walk to Crisp, and Joaquin Benoit comes in to get the sigh of relief third out. Still nothing happening for the Tigers against Doolittle in the top of the 9th, despite a cameo from Jhonny Peralta at the plate (Don Kelly will be in LF for the bottom half). Joaquin puts it away in impressive fashion against the A's 4-5-6, at least two of them major threats to tie the game with one swing.
* Spotlight on Max Scherzer. His pitching performance in Game 1 has to rank high in Detroit Tigers postseason annals. I'm anxious to see how his BR Game Score compares with some of the 1968 WS starts, in particular.
* Rather surprisingly, since 2000, the ALDS teams that have won Game 1 have only gone on to win the series 15 of 26 times. But since 2007, it's been 10 out of 12. Also since 2007, winners of Game 1 away from home have gone 5-0 in series wins.
* Anyone remember Detroit vs. Oakland in the 1972 ALCS? I don't have clear memories besides bitter disappointment. I don't know how much of it I watched or listened to; I may have followed most of it by newspaper. I remember plenty of the names on both sides, of course; the Athletics were so star-studded that I probably remember more of those names. I wonder how many of the 1972 Tigers I can name without looking it up. Let's see… Lolich, Coleman, Brinkman, Rodriguez… after that I start to get confused about how many of the 1968 guys were still on the team. Horton, Stanley, Cash, Northrup, Brown, McAuliffe, Freehan – were they still around? I'll take a couple more stabs in the dark with Hiller and Timmerman, and then give up and check the record.
Ha! I must have really taken Mr. Tiger Al Kaline for granted back then. Couldn't recall now how far into the 70s he'd played. Anyway, what a series. Look it up (if you need to). Heartbreaker. Starting lineups for the decisive game: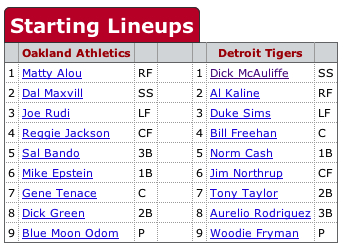 2006 was sweet, of course. Saw a clip of the Magglio HR recently and had the thought that this is what the Tigers see in Castellanos. Last year was a close call, but I think the better team won, for sure. I've got a good feeling about the current series. Is it just the way it's started, or are the stars and the planets really aligning in Detroit's favor? It's hard to be pessimistic, up 1-0 and JV coming up. Bats, schmats. I don't think the unknown rookie jinx is valid for the postseason. No. I really think that has expired. Call it a guy feeling.