86-63, 5 up on Cleveland, KC effectively eliminated. 6-7 September record; more of the same gets Detroit to 92-70… and the ALDS in Oakland.
Big win yesterday against the Royals, big loss the day before, biggest series of the season on many levels. Gut check: Pass. (Also down to the wire now in the Game Poster League. Good job, Kevin. I guess I'm the only one left who can't handle the pitching staff.)
The Seattle Mariners come to Cabrerica for a four-game series, day game on Thursday. Rain is a threat in the Detroit area forecast for the last couple, particularly Thursday. The forecast also calls for a 95% chance of Iwakuma and King Felix the last two games, with hail as large as baseballs, or possibly pitched baseballs the size of small hail, depending on how you look at it, threatening to come down upon the Tigers offense.
Unaided memory of the April series in Seattle calls back: Hunter to Fielder to Pena and a violent collision at home plate with Justin Smoak where Pena hangs on to preserve a 2-1, 14-inning win. The Series of the Strikeout (both teams). Prince Fielder striking out 5 times in one game. Iwakuma throttling the Tigers. The first glimmer of the first minor offensive funk of the season.
April 16: Tigers 6 MARINERS 2 WRAP
April 17: Tigers 2, MARINERS 1 (14) WRAP
April 18: MARINERS 2, Tigers 0 WRAP
The Mariners can hit a home run, but are otherwise one of the worst offensive teams in the AL. No threat on the bases, bullpen and defense nothing to write home about, either. Their starting pitching would seem to be their saving grace, but that's really all about Hernandez and Iwakuma, not enough to save them from 66-83. They do, however, have something "left" to play for, and that is winning. Just like every other team the Tigers will face from here on out. Let's try not to forget that.
Miguel Cabrera, who didn't appear especially unhealthy at last check, might be on his way from Triple Crown to No Crown. Monster consistency over 5 months just leaves us wanting a sixth (and seventh) month, doesn't it? "What have you done for me lately?" is a constant in baseball. But he does seem to be coming around lately. Staving off Trout for his 3rd consecutive batting title certainly wouldn't hurt the team's chances.
Now, about that playoff rotation question posed recently by Kevin, as we jump to all kinds of fairly reasonable conclusions. My take – which assumes that the Tigers are not going to face an AL wild card at any point and that the A's aren't gonna catch the Red Sox – is below: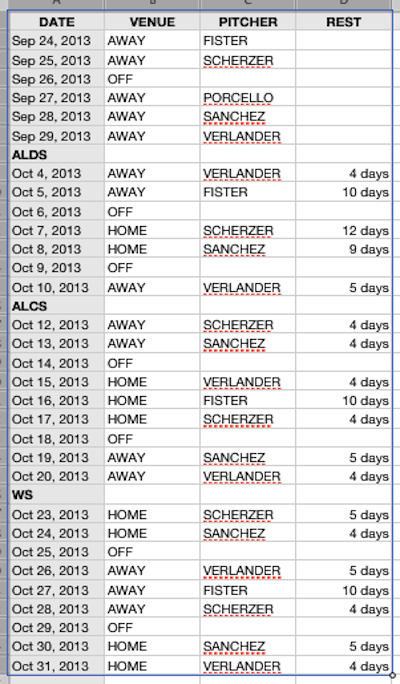 Interesting questions:
1. Must Porcello be excluded from playoff starts? Isn't there a way to work him in? Might the Tigers actually go 5-man – and would you? How? (I considered it, though not carefully.)
2. Verlander is due to start Game 162 as things currenty stand. Is there a reason to juggle this for a playoff reset? (I don't think so.)
3. Is the honor of a Game 1 start a factor in your mind? Does that surpass being entrusted with an eventual Game 7?
Two of my choices might stick out. Fister in ALDS Game 2 at Oakland? (Good career numbers there.) Verlander my 3-7 go-to guy in the ALCS and WS? (Yep.) Even my Game 5 go-to guy in the ALDS? (You remember 2012, don't you?)
All right. If the Tigers can take care of their own business against Seattle, the scoreboard watching can soon end. And wouldn't that be nice? Wake up, Andy Dirks (CAPOPS*). Get a big hit one of these games, maybe even have a big series. You're turning into a ham sandwich. Unacceptable.
*Called Out Player Of The Pre-Series.