93-67, AL Central champs. No chance at #2 seed in AL playoffs, possibility of facing Boston rather than Oakland in the ALDS. Pick your poison, Tigers are decided underdogs either way, but Detroit is 8-20 against the Red Sox at Fenway under Jim Leyland. That's right.
Last night: Miami 3, Detroit 2. OK, it was a loss. It's not that they didn't try or that too many "scrubs" were playing or any of that nonsense. They just lost. Big hit by big man Giancarlo Stanton (Marlins aren't quite as no-name as I thought – obviously I haven't paid them much attention) and quiet Tigers bats = a loss a lot like at least 20 others this season. So what's the big deal?
Well, home-field advantage in the ALDS is out the window. No small matter. I got a weird vibe from this game. I knew there'd be a bit of "spring training" to this series with odd lineups, true, but I didn't expect the games to feel that way, not with something on the line. I'm not much for the Alvarez semi-start, not much for the formality start from Fielder, not much for how Peralta played the Stanton double. I have my doubts about the concept of getting Porcello "ready" for the bullpen the way it was done, like this game was for practice purposes (which it evidently was, that from the horse's mouth). After a day off prior, and with four off-days coming up, the idea of needing to get guys off their feet at any time during this series is laughable. The one guy who could have stood to have the day off was playing; Iglesias, the batless wonder, he of bruises and shin splints. While his bat-equipped replacement stood in LF in the name of experiment. Wonderful. I'm left a bit sour on the whole thing.
Gates Brown dies at 74. Larger than life role player that Tigers fans have never forgotten.
Rondon, Coke, Cabrera for the Marlins series.
Peralta in LF. Sounded good in theory. Nice additional option. Not so pleased with it now. It may prove costly and might look quite stupid when we're dissecting the postseason later.
The postseason rotation is still up in the air, but I would say that Scherzer/Sanchez/ Verlander/Fister is the best bet going in. How that might eventually shake out depending on how far each series goes is wide open. If the Tigers needed Scherzer twice to get through the ALDS, it's obvious that he wouldn't be starting Game 1 of the ALCS. So maybe that's a reason to start Sanchez or Verlander in Game 1 of the ALDS? You tell me, and then we'll tell Leyland. Or not.
I wonder how Prince Fielder feels about that "start" last night. He's "over stats," and stats would include streaks. I'm guessing it wasn't his idea and that he didn't like the draw a walk and leave one bit.
I'll try to get back with some stats here, in order to set an example for the Detroit Tigers. No reason not to make a serious effort, no matter how "meaningless" or "experimental" a series may be. I want 95 wins. Don't you?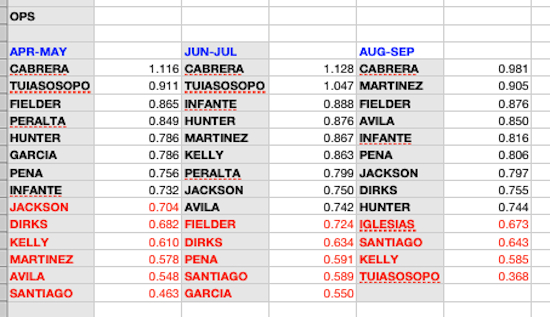 It's clear from this and the rest that Miguel Cabrera is on his own planet, as if we didn't know. Which makes his ordinariness of late more of a postseason concern. (Face it, we're doomed.) (Oh, maybe not.) Offensively, no one else on the team deserves to be mentioned in the same breath. Or paragraph.
Avila's resurgence is real (I had my doubts). So is the massive K rate.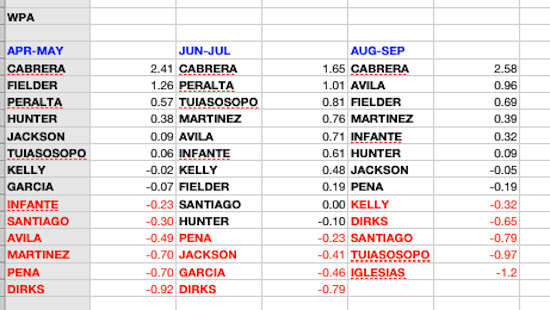 My failure to notice the missing decimal place on Iglesias irks me. Oh well.
WPA is Win Percentage Added. It's big, as in "how does my offense affect game outcomes?" Sometimes it seems as though Hunter is always there to deliver the big hit (especially right after he does). Think again. Think Peralta. Jackson? Forget about it. Pardon me for thinking you a bit overrated, Mr. Omar Infante.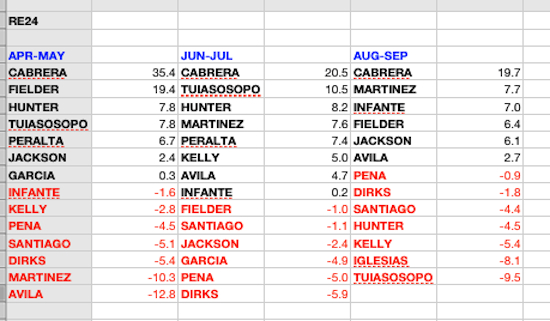 RE24 is perhaps best thought of as "overall quality of at bats (actually plate appearances)." Here Tui fails to redeem himself. The coachman has indeed turned back into a mouse. It should be clear from all the above, however, that Mister Offensive Bust of 2013 has been none other than Dirks. (Pretty darn good in LF, though.) Notice how excellent numbers for Hunter have gone south (uptick in strikeouts and GIDP – what happened to "table setter"?). It matches observation to say that the more trustworthy quality ABs currently reside in the Men In Black in the right column (notice red on the rise). Santiago has raised his average, yes… but seriously.
Let's hope the Tigers rise to the occasion tonight with brilliant formatting from Sanchez, and that the bats are hitting Command-B and playing with Excel rather than the crappy spreadsheet program I'm using.