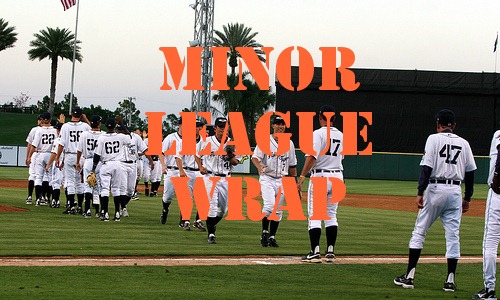 Toledo – rained out
Erie – suspended
Fort Myers 2 Lakeland 0
When Alden Carrithers and Kody Kaiser combine to go hitless, you know something is amiss. Josh Workman managed 2 hits. Daniel Fields singled and walked. Luke Putkonen didn't miss many bats with just 1 strikeout, but held Fort Myers to 5 hits and 2 runs in 7 innings.
Peoria 8 West Michigan 5
Ramon Lebron pitched the 3 innings of pre-suspended baseball and allowed 3 runs on 5 hits and 3 walks in 3 innings. Jacob Turner pitched the last 6 innings after play was resumed and allowed 4 runs on 8 hits, a walk, and 3 strikeouts. Jordan Lennerton went 4 for 5. Avisail Garcia and Hernan Perez each had 2 hits. Ronnie Bourquin (I didn't even notice he was back) walked twice.
Peoria 2 West Michigan 3
Luis Salas doubled twice. Alexis Espinoza hit a walk off homer. Jared Wesson pitched the first inning and had control issues with 5 walks allowed.  Zach Samuels pitched 5 scoreless innings of relief.