Jeremy Bonderman returned to the mound, health for the first time since before the All Star Break in 2007 and the results can only be described as encouraging. He retired the first 11 hitters he faced before struggling in the 4th inning. But the best news is that the slider was darting straight down like Bonderman slider of doom that we all know and love.
The pitch f/x data is a little inconclusive at this time. It misclassified the splitter and I don't know that I trust the 4 seam versus 2 seam fastball splits either. While he got up to 93mph on the fastball a few times, he was usually a few ticks below that. But for those that watched the game, the slider was just nasty.
My only concern is that Bonderman's velocity seemed to peter out a little as the game wore on. The hope is that this is just a matter of him rebuilding stamina. The graph below is of all the pitches the Gameday classified as a fastball (two-seam and four-seam are included).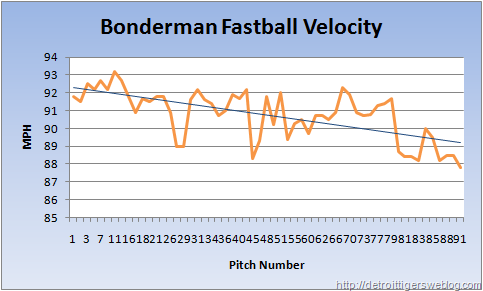 That is just nitpicking an outing though where he only allowed 3 baserunners. Bonderman and Leyland were certainly pleased with the outing as well.
For one full turn through the rotation, Tigers starters have all pitched effectively. Granted, they haven't face offensive juggernauts in the Royals and Indians, but there is reason for some optimism.
Other items from the game
I like this version of Magglio Ordonez. He's driving balls to all fields and getting the results that go with it.
I like this version of Brandon Inge too. The one that is selective at the plate and is driving the ball to right center field with regularity.
Very nice defense today all around. Adam Everett made a couple nice plays at shortstop and Miguel Cabrera continues to dig everything in the dirt.
Ryan Perry got 4 outs and the save on 11 pitches. He looks like a different guy this year. The potential of last year is turning into results this year.
The Tigers drew over 35K for game number 2 and I'd expect a similar sized crowd today. It's great to see a full park, not just on Opening Day