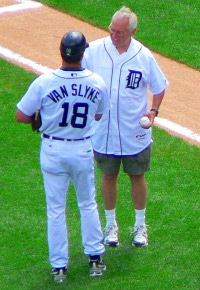 I had been expecting an announcement about the coaching staff, but this wasn't it . The Tigers invited 5 of their 6 coaches back for the 2010 season, but Andy Van Slyke is pursuing other other options.
In addition to coaching first base and catching the ceremonial first pitches, Van Slyke also had responsibility for the outfielders and baserunning. Mike Rogers looked at the numbers on both of those fronts and found them to be largely inconclusive. The Tigers baserunning hasn't been good, but they haven't had a lot of speedsters or 1st to 3rd guys. Their outfield defense has been mostly adequate.
Tom Gage notes that the replacement will most likely come from within the organization and that the early speculation is that roving minor league instructor Gene Roof would get the gig, though staff assignments haven't been finalized yet.
I'm most concerned that there doesn't appear to be any organizational traction to alleviate Lloyd McClendon of his duties.
Fire Jim Leyland: Andy Van Slyke's Impact on the Tigers
Tigers say goodbye to Andy Van Slyke | detnews.com | The Detroit News
Andy Van Slyke Won't Return Next Season – Bless You Boys