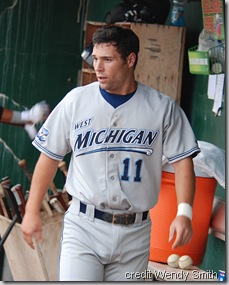 The Tigers representatives in the Arizona Fall League now have a week under their belts. Since the opener most have handled the challenge quite well so far with your likely 2010 second baseman Scott Sizemore leading the way.
Scott Sizemore
All he's done is homer 3 times, double twice, and walk twice in 18 plate appearances. That's good enough for a 375/400/1.063 slash line and prompting Kevin Goldstein to say "there isn't really a glaring weakness in his game."
Casper Wells
Mark Anderson of TigsTown thinks that a big fall could put Wells in the mix for the outfield rotation in 2010. So far he has a 444/450/889 line in 19 plate appearances. He has fanned 8 times though so it appears he's either hitting the ball hard or not at all.
Cale Iorg
So far Iorg seems to be picking up his AFL season where his Erie season ended, and that's not necessarily a good thing. He has a 182/182/250 line so far but I guess the good news would be that he's only fanned 4 times. In Kevin Goldstein's BP 10 Pack he listed this scout's comment on Iorg:
I like the tools and what he does with the glove… but he just can't hit.
Andrew Oliver
After getting knocked around a little bit in his first outing he bounced back nicely fanning 3 and walking 1 in his next outing which lasted 2 innings. He followed that up with a 1 inning stint that saw him allow 2 hits, but no damage while notching another strikeout.
Robbie Weinhardt
Weinhardt also improved with his second outing, but that was really the only way for him to go. But he still allowed 2 runs in 1.1 innings. Weinhardt has allowed 7 runs in 3 AFL innings on 9 hits and 3 walks. For someone who allowed just 8 earned runs in 30 AA innings this year this is certainly uncharacteristic.
Scot Drucker
Drucker isn't really viewed as a prospect, but he has done well with this opportunity so far. He's allowed just 1 run on 2 hits in 5 innings despite just striking out 2.