Just because the regular minor league seasons are over doesn't mean there isn't news coming out about the Tigers prospects. The instructional league is in full swing, the Arizona Fall League is starting, and post season awards are being handed out.
Instructional League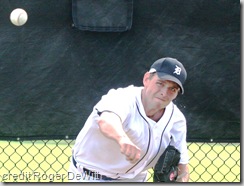 The IL games are underway. Mark Anderson of TigsTown is on site and filing daily reports. The first one was free, but the subsequent ones are premium content. Based on the 2 reports so far Audy Ciriaco has been a star.
The IL is also a chance to see many of the Tigers 2009 draftees in Tigers uniform for the first time. Lakeland resident Roger DeWitt has been hanging around the fields and posting his pictures on Flickr. As has been the case the last few years, Roger was the first to get shots of the Tigers first round picks in action and he has Jacob Turner throwing on one of the practice mounds.
Arizona Fall League
The Tigers have had to make some adjustments to their AFL roster due to the arm problems of Cody Satterwhite and the lingering wrist problem of Ryan Strieby. In a surprise move (at least I was surprised), 2nd round pick Andrew Oliver will take Satterwhite's spot.
What isn't known is if Oliver is going because he has really impressed so far and the Tigers want to see what he does against advanced competition in preparation for an aggressive assignment next year, or if he is going by default.
Casper Wells will take Strieby's spot, but that isn't so much of a surprise.
Player of the Year Honors
Congratulations to Scott Sizemore and Casey Crosby who took home organizational Player of the Year and Pitcher of the Year honors. (As predicted by Take 75 North).
Both had outstanding seasons. Crosby was kept on the 75 pitch limit which did hold down his innings but he still managed 117 strike outs in 104.1 innings. I'd imagine he'd start out in Lakeland next year with an 85-90 pitch limit but he could very well end up at Erie before the year is out.
Sizemore just raked the ball all season. He hit in Erie and continued hitting as he spent the 2nd half of the year in Toledo and he may be pushing Placido Polanco out the door.