The Tigers have once again placed Dontrelle Willis on the DL due to anxiety disorder. Alfredo Figaro will be called up from Erie to start on Saturday.
I'll have more on this in an hour or so. It's been a little more than an hour now.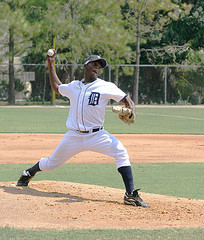 Alfredo Figaro got a little bit of a late start as a prospect. He dominated West Michigan last year, but at age 23 that wasn't particularly exciting. He spent the later part of last year with Lakeland and was pushed to Erie this season where he has a 59/17 K/BB ratio in 68 innnings. In his last 2 starts he pitched 14.1 innings with 18 K's. He's also Fernando Rodney's cousin.
As for the Willis DL stint, this will raise eyebrows. There were doubts with the initial anxiety disorder diagnosis for Willis and this will surely cause more questioning. Willis himself even said he was fine. The questions will continue because the Tigers were faced with a tough roster decision with Willis were it not for the DL stint. With it being more than 5 years since his debut he has the right to refuse a minor league assignment and he would need to pass through waivers.
I'm curious about the timing or the announcement, like why did the move not occur until today if he was hitting the DL? Couldn't this move have been made earlier in the week and the Tigers could have had an extra player until Figaro's start on Saturday? Then again I don't know what is involved in diagnosing anxiety disorder and it may have been a several day process.
I still wish Willis the best, but at what point does the saga end? The team has supported him, the fans supported him, he's been given many chances. It looks like he'll get one more.