Game 2009.077: Tigers at A's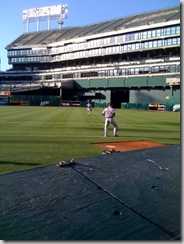 PREGAME: Gio Gonzalez takes on Armando Galarraga.
Galarraga continues to teeter on the edge of the rotation. Gonzalez makes just his 2nd start of the season. He was rocked in his first start and was knocked out in the 4th inning after allowing 10 hits (but with 6 K's).
Granderson
Polanco
Cabrera
Thames
Raburn
Inge
Ordonez
Ryan
Everett
Detroit vs. Oakland – June 30, 2009 | MLB.com: Gameday
POSTGAME: This wasn't the text book way to go about getting a win, but it's a win.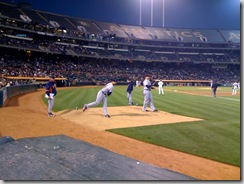 You aren't supposed to win when your starter gives up 6 walks, but the A's didn't hit Galarraga hard at all so there were only 2 baserunners via hits and only 1 run to show for all of their patience. I guess that's what you call scattering your walks. But Galarraga did seem to have some bite on his slider and it was inducing some swings and misses – I just think he used it too often, like when he was ahead of Jack Cust 0-2 and he threw 3 straight sliders nowhere near the zone.
You aren't supposed to win when you make 2 baserunning errors where outs are made between 3rd and home. Those are runs you have to have, or at least not toss away so easily. The baserunning mistakes, and the ill advised sacrifice bunt attempts early in the game against a struggling pitcher are why the Tigers only plated 3 runs off of Gio Gonzalez despite having 7 hits, 3 of which were for extra bases, and 2 walks in 5 innings.
You aren't supposed to win when you make 3 error-like plays in the field. But Galarraga pitched around a dropped foul fly by Ryan Raburn, a fumbled grounder by Everett, and another play by Everett where the Tigers only got 1 out instead of 2.
You aren't supposed to win when your closer allows 3 baserunners and a home run, but Rodney only let the game get to 2 runs before a double play grounder ended the night on 19 pitches. Oddly, it was Rodney's fastball getting hit and really, his control improved after an initial walk.
Ryan Raburn and Placido Polanco were the offensive stars. Raburn hit everything hard. Polanco drove in 3 of the 5 runs and is on a mini-Marcus power surge as of late.
Inge was having a rough night offensively but he got a blooper to drop behind a drawn in infield to score an insurance run.
Dusty Ryan was patient, and he took called 3rd strikes his last 2 times up
Magglio, I don't know. He did drive a ball to right field once, and a 2-0 count. He was also late on a 3-1 fastball. He also swung and missed a ball well off the plate as it looked like he was gearing up to try and pull a fastball.
Bobby Seay and Joel Zumaya (pictured above thanks to photos from westcoasttigerfan) had good games. Zumaya hit 102.7 and 102.6 matching his fastest pitches from the Cubs series.