What's up with Verlander in the stretch?
Justin Verlander has gotten off to a rough start in 2009. People are starting to question his "ace-hood" and with an ERA of 9.00 after 4 starts it is probably justified. What makes his start so perplexing is that his "stuff" appears to be back. His fastball velocity is over 95mph and he's fanning 10.7 batters per 9 innings. The numbers that really need a deeper examination though are those when runners are on base. Verlander is stranding only 39.6% of runners (a normal rate is 65-75%) and hitters post a 457 OBP with men on and only 296 with the bases empty. What's up with that?
Stuff and Selection
The disparity made me wonder if there was something mechanical that changed when Verlander went into the stretch. Did he have a harder time finding the zone, was his stuff not as good, less break, less velocity? I took a look at the pitch f/x data for his first 4 games looked at stretch and wind-up situations. The pitch mix, velocity, and horizontal and vertical movement for his pitches in both scenarios are displayed below.
| | | |
| --- | --- | --- |
| | Stretch | Wind-Up |
| % Pitches In Zone | 47.7% | 46.5% |
| % Strikes | 62.5% | 66.7% |
| % Fastballs | 60.8% | 75.3% |
| FB Velocity | 96.0 | 94.9 |
| FB V Move | 10.89 | 10.94 |
| FB H Move | -7.77 | -7.99 |
| % Curve | 26.7% | 18.9% |
| CU Velocity | 81.5 | 80.6 |
| CU V Move | -4.45 | -5.72 |
| CU H Move | 4.41 | 5.03 |
| % Change | 9.7% | 5.2% |
| CH Velocity | 83.4 | 84.2 |
| CH V Move | 8.47 | 7.41 |
| CH H Move | -9.66 | -9.57 |
Verlander actually throws his fastball harder from the stretch adding a full mile per hour. The extra speed on the heater doesn't hurt his movement at all (those are inches, so a couple tenths of an inch is insignificant.
He throws his curve ball harder in those situations also, and in this case he actually is sacrificing movement. He gets over an inch less drop on his breaking ball. With his change-up he throws it a little harder with a wind-up, but still gets more sink with the extra mile per hour making me wonder if he slows his arm more with the change-up from the stretch.
But the bigger differences aren't in the pitch path to the plate, but the selection. Verlander throws his fastball 75% of the time with the bases empty, but he starts throwing his curve and change much more with runners on base. The fastball is Verlander's best pitch, his signature pitch, but he goes away from it when he gets in trouble.
Strike Throwing and Command
In terms of control, he actually throws pitches in the strike zone at a better rate from the stretch. But his rate of strikes is markedly lower. The table below is a break down of his strikes by type of strike.
| | | |
| --- | --- | --- |
| | Stretch | Wind-Up |
| Called | 24% | 31% |
| Foul | 31% | 25% |
| Swinging | 15% | 21% |
| In Play | 31% | 23% |
Verlander doesn't get swinging strikes or called strikes at the same rate when pitching with men on. A deeper look reveals that from the wind-up, 24 of the 28 swinging strikes that Verlander has  earned this year have come on the fastball. With runners on base, he goes away from the pitch and only had 16 swinging strikes with runners on and only 7 came on the fastball.
Release Point
One last thing I wanted to look at was release point. Does something change that makes Verlander more or less deceptive? Below is the ball's location at 50 feet from the front of home plate.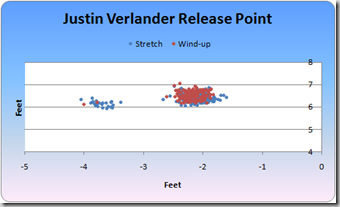 At least at the 50 foot mark things are pretty consistent between the two deliveries. There is a cluster of pitches off to the right and a little lower than the main grouping. That cluster occurred in the first 3 innings of the Blue Jays game. I don't know if his delivery changed that much or if it was a calibration issue. At the very least I think that this portion can be deemed inconclusive.
Based on this pretty limited study it doesn't appear that being in the stretch itself disrupts Verlander too much. His curve and change-up are altered slightly, but being a geek instead of a ballplayer I don't know how much those changes in movement effect results. What I can see though is that he becomes much more reliant on those pitches in that situation. So if the pitches are less effective from the stretch, by throwing them more he doesn't help his chances.