Indianapolis 13 Toledo 10
Joel Zumaya is probably one outing away from rejoining the team. He pitched a scoreless inning fanning 2. Scott Drucker was shelled for 7 runs allowing 9 baserunners in 4.1 innings. Fu Te Ni didn't fare better with 4 runs on 5 hits and a walk in 2.2 innings. Mike Hessman hit a grand slam and Dusty Ryan hit a 3 run homer. Brent Dlugach had 3 hits and Clete Thomas and Ryan Robertson added 2 apiece.
Erie – suspended in the 3rd inning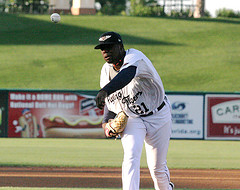 Clearwater 4 Lakeland 0
Dontrelle Willis went 7 innings, which by itself should tell you something. He allowed 4 runs on 8 hits with 2 K's and no walks. He was perfect through the first 3 innings and recorded 16 ground ball outs. Michael Bertram went 2 for 2 with 2 walks.
West Michigan 5 Fort Wayne 2
Brandon Douglas was a homer short of the cycle. Jordan Newton added 2 hits. Casey Crosby pitched a no hitter for 3 innings, but he walked 6 in that time, but he also fanned 5.