The Tigers defense was the cause of much consternation this season, and rightly so. Now that David Pinto has released his PMR defensive metrics, we can take a detailed look at each position.
If you're not familiar with PMR, it is a system that looks at each ball hit into play and the probability that the ball should be converted into an out. That probability is based on a number of characteristics including the handedness of the batter and pitcher, the type of hit, the direction of hit, and how hard the ball was hit. It is based on data from BIS which also provides the data behind the +/- system and revised zone rating.
The table below shows how the Tigers fared at each position, as well as the primary players at each position. It shows the number of balls in play (this is constant at the team level), the actual outs and predicted outs, the plays made above or below expected and then a conversion to runs. The last 2 columns scale the plays and runs to 4000 balls in play which is approximately 150 games or the normal workload of a full time player.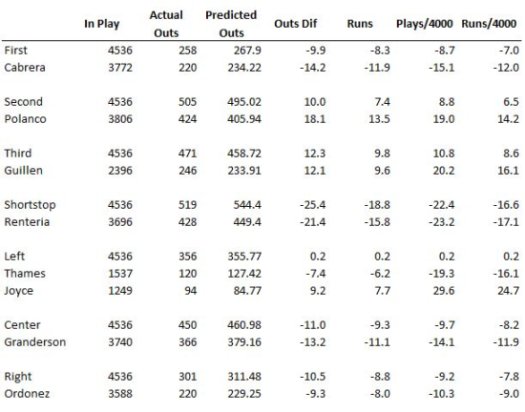 The Tigers took significant steps back at several positions and the results was being 27.8 runs below expected – which is nearly 3 wins. Compared to last year when the Tigers were 15.8 runs better than expected, it's a swing of 4.5 wins to the negative.
The Tigers saw declines at every position except for left field, where Matt Joyce fared very well in his part time play. He more than compensated for Marcus Thames who in the past had been an averag-ish fielder. The declines at first, second, and short weren't terribly significant. Polanco was nearly as good as last year, and Cabrera wasn't appreciably worse than the Casey/Thames/Guillen combination at first.
One of the biggest losses occurred at third base where there aren't many who can adequately replace Brandon Inge's glove, despite the fact the system rated Carlos Guillen very well. Magglio Ordonez was near average in 07 but poor in 08 in right field.
The biggest hit defensively though, and it accounted for two-thirds of the decline in team defense by this measure, was in centerfield. The Tigers were +23 runs in 07 and -9.3 in 2008. I really have no idea what happened to Curtis Granderson but he was 3 wins worse defensively. And I don't think it was a problem with the metric because throughout the season he seemed to be getting to fewer balls. He has several years of data where he was excellent and one where he was poor. I'm inclined to think that he's still a good fielder who had a bad year.
So about this Inge/Guillen thing
Now the Tigers have already announced they are going to try and upgrade their defense by installing Inge at third base and shifting Guillen to left field. What's misguided is that they are attacking two positions where they were actually decent last year. While Inge will still provide the upgrade at third with the glove, the benefit may be negated as Guillen learns a new position and replaces a pretty competent fielding Joyce. Plus you weaken third base offensively and I don't understand how this move helps.
Below are links to the PMR data from Baseball Musings and the run conversion info from Beyond the Boxscore.