Is Freddy Dolsi the new sexy?
Editors note: This post has nothing resembling well reasoned analysis. This is simply the author's enthusiastic response to two recent plate appearances. The views and opinions expressed below do not represent those of the more logically based billfer that normally resides in this corner of the internet. He'll be back tomorrow.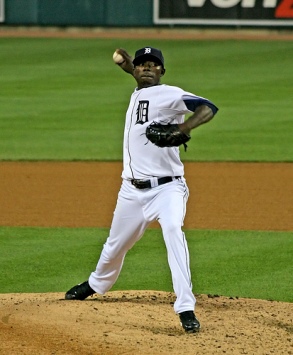 Did you see what Freddy Dolsi did today? Dude comes in with the sacks loaded, the go ahead run standing at the plate, and only one out in the 8th inning. Dolsi, anagram-ically nicknamed Freddy Solid by frequent DTW commenter Chris in Dallas, fell behind Jhonny Perralta 2-0. He battled back into a full count. And then came the heat. A 97 mph fastball right down the middle. It's the type of pitch that Rod Allen labels "here it is, hit it" but there would be no hitting it today sir.
With two outs, now some of the pressure is off. But Dolsi is amped up. Three more fastballs down the middle to Ben Francisco and Dolsi had himself back-to-back K's. This one was a called strike where Pudge comes rocketing up out of his crouch before the ump even calls strike 3. It was beauteous.
As I type this Joel Zumaya and Fernando Rodney are throwing another rehab outing. Soon, someone will have to go down and I think Dolsi isn't eager to go anywhere.
Yes, the Indians hitters helped him out by not really having good at-bats, but Dolsi gets some of that credit doesn't he?
And yes, coming into today he'd allowed 12 hits and 7 walks in 12 innings. And there was that time he didn't call time out and Toriii Hunter stole second. And there was the time he air mailed an intentional walk ball for a wild pitch. And there was the time he didn't cover first base resulting in a walk-off infield single (hey, it's starting to sound like that billfer guy snuck back in here). Some of those things might undermine his sexiness as well as the Freddy Solid monicker. But today he was sublime so for now I will bask in the warm glow of his 9 fastball, 2 K outing.